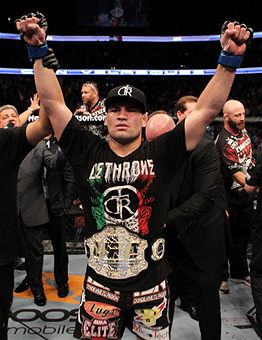 With Brock Lesnar M.I.A., This Is "Worst Case Scenario" For UFC's Heavyweight Division!
UFC's hopes that Undisputed Heavyweight Champion Cain Velasquez would put his undefeated 9-0 record and the sport's top prize on the line against Junior Dos Santos at the promotion's huge debut in Toronto fell apart as it was revealed Velasquez suffered a torn rotator cuff against Brock Lesnar at UFC 121.

CLICK HERE TO READ OUR OWN HUSTLER DE TUTI HUSTLERS PAUL HEYMAN'S COMMENTS IMMEDIATELY FOLLOWING CAIN VELASQUEZ'S VICTORY OVER BROCK LESNAR AT UFC 121!

American Kickboxing Academy trainer Javier Mendez acknowledged the camp knew Velasquez was injured when he decided to undergo an MRI after defeating Lesnar, though he declined to disclose it at the time because the severity of the injury was unknown after an initial MRI.
When a second MRI this past week revealed a badly torn rotator cuff which would require surgery, and therefore take Velasquez out of action for a minimum of 4 to 6 months, it became obvious a title defense in April was not going to happen.
Mendez said Velasquez's rotator cuff is 90 percent torn and will need extensive physical therapy.
Although Junior Dos Santos' manager Ed Soares (who also handles Anderson Silva) could not be reached for comment by the MMA media after the news broke, MMA WEEKLY REPORTER DAMON MARTIN scored a major exclusive when he got Soares to comment via text message.

In an EXCLUSIVE POST, Martin reported:

MMAWeekly.com was able to speak with Dos Santos' manager, Ed Soares, on Wednesday as well. According to him, the top contender in the heavyweight division will not be waiting for Velasquez to return before fighting again. "He is not going to wait six months," Soares said in a text message to MMAWeekly.com.
Dos Santos last fought in August when he defeated Roy Nelson by unanimous decision at UFC 117 in Oakland. The Brazilian would end up sitting out almost a year between fights if he waits for Velasquez to return, so it appears for now he will be looking for another fight in 2011 before he challenges the champion.
With the obvious tension between UFC and Former Undisputed World Heavyweight Champion Brock Lesnar, this presents a near-nightmare scenario as the Heavyweight Division falls into turmoil and controversy as the Ultimate Fighting Championship enters 2011.
We're HustleTweeting on Cain Velasquez, Brock Lesnar, and the UFC Heavyweight Championship picture, and you're more than welcome to join the conversation! Follow THE HEYMAN HUSTLE on Twitter HERE or write to us at hustleoncrave@gmail.com
You can also subscribe (for FREE, cheapos, absolutely FREE) to our Ultra High Quality YouTube Channel HERE, and don't forget to check out our old school social networking skills by visiting us on Facebook HERE and even on MySpace HERE
CLICK ON THE PICS BELOW TO SEE THE ENTIRE GALLERY
OF CAIN VELASQUEZ'S UFC 121 TITLE VICTORY OVER BROCK LESNAR!

EVERY SINGLE DAY, OUR CRACK STAFF OF OVERWORKED
UNDERPAID BUT HIGHLY TRAINED MONKEYS SCOUR THE
WORLD WIDE WEB IN SEARCH OF THE 15 HOTTEST STORIES
OF THE DAY, JUST TO BRIGHTEN YOUR DAY. COOL, RIGHT?
ALL YOU NEED TO DO IS PICK A PIC … AND CLICK!