Or "Not Just Another Blog About One Family's First Trip To Israel and The Middle East"
By way of introduction, I am the Executive Producer & Director of the Heyman Hustle. Think of me as Mr. Heyman's other half… the one rarely seen because I hang behind the camera.
A quick Google search later… yup… I work often in music and commercials and get to hang with some amazingly talented and wonderful people. And then, there's Mr. Heyman… Best friend… family… often writing partner… partner in crime… Butch to my Sundance… Curly to my Moe… hence… Looking for Larry.
Yup, I am truly blessed.
Speaking of blessed…

Jump cut to:


January 2010. Me, the guy who was never particularly driven to return to my Jewish roots, knee deep in desert mud (yes it DOES rain in the desert and it ain't pretty) on the banks of the Jordan River in the DMZ between Israel and Jordan filming a documentary with 1000 Ethiopians banging drums and chanting to heaven (it seems much closer to a direct connect here than say, Brooklyn). While here, I made this discovery. There is no place more ALIVE than anywhere else on the planet.

Think of Israel as a spiritual Times Square. It is that inviting. That wonderful. And again. That alive.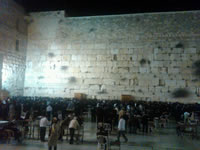 So when the opportunity came close enough to Spring Break to attend another best friend's son's wedding…hmmm act of God… we thought…

Jump cut to:

EL AL – Me, My uber daughter (call her Uber Daughter) and amazingly beautiful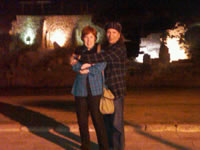 inside and out wife (call her " Esq.") and the beautiful young flight staff and amazing service of EL AL.

First discovery… Israeli wine hearty and it ROCKS!

Next stop, Jerusalem.

Come back often… I'll hit y'all as often as I can.

Yours in search to the answer of the eternal question this cowboy from Brooklyn needs to know, Can Camels Canter? We will find out together.

==============================
Executive Producer Mitchell K. Stuart will be blogging from Israel exclusively here on The Heyman Hustle because we allow more than 140 characters per post. Sorry, Twitter!
Photos by Morgane Stuart