UFC's Biggest Mouth Roars Through an Interview with Ariel Helwani!
Chael Sonnen's post-fight interview challenging Anderson "The Spider" Silva to what is essentially a "Loser Leaves Town" Fight was only the beginning. MMA's number one reporter Ariel Helwani of MMAFighting.com caught up with Sonnen after UFC 136, and believe it or not Sonnen still had a lot more to say!
You can follow Sonnen on Twitter HERE, and interact with Ariel Helwani on Twitter HERE
Of course, we're HustleTweeting about Chael Sonnen and his challenge to Anderson Silva, and you're more than welcome to join the likes of Stone Cold Steve Austin in sharing your opinions on this latest UFC controversy by following THE HEYMAN HUSTLE on Twitter HERE or write to us directly at hustleoncrave@gmail.com Hey, have you checked out the Hustle's Ultra High Quality You Tube Channel, with videos featuring ICE-T AND COCO's SEX SECRETS … THE ULTIMATE WELTERWEIGHT BAD ASS NICK DIAZ … CONTROVERSIAL TEEN SENSATION TAYLOR MOMSEN … LEGENDARY MMA PIONEER FRANK SHAMROCK … THE WALKING RIOT MISSY HYATT … if you're not subscribing, you're missing something … and by the ways cheapos, it's FREE! Yes, absolutely 100 percent FREE! What are you waiting for? Check it out HERE!
By the way, we're also old school social networkers, so check out our interactive skills on Facebook HERE and even on MySpace HERE. If you're on Friendster, GFY … and have a pleasant tomorrow!
IF YOU THOUGHT THE POST-FIGHT INTERVIEW WITH JOE ROGAN WAS
SOMETHING, YOU SIMPLY MUST CHECK OUT THIS ONE!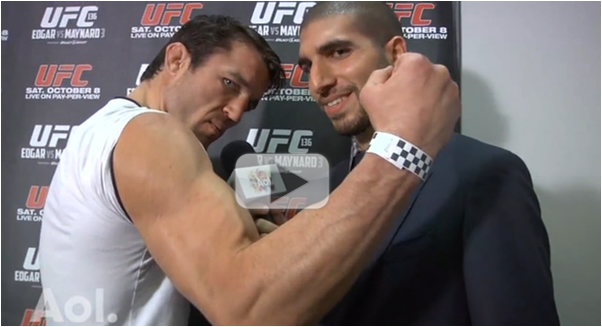 THE HEYMAN HUSTLE'S VERY OWN TRAINED MONKEYS ARE PROUD
TO PRESENT THE TOP 15 STORIES OF THE DAY, ALL CONVENIENTLY
LINKED HERE FOR YOUR REVIEW. NO NEED TO SURF THE WEB, WE
DID ALL THE HARD WORK FOR YOU. JUST PICK A PIC AND CLICK!