HEYMAN HUSTLE kimosabe Neil Levine has another number one artist on his hands. The impresario behind Sony Music's "Battery Records" under the RCA/Jive label  group, Neil has scored big time with Texas small town big man Chalie Boy, whose first single "I Look Good" has hustled its way to numero uno at  Houston's uber-powerful KBXX (The Box) as well as a Top 5 single at KBFB and KKDA in Dallas. Picking up on the wave of momentum in Texas, influential Hip Hop / R&B station KMEL San Francisco has put the song in rotation to hot response.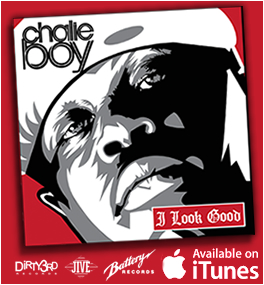 Levine, GM and Senior Vice President of Battery Records (which means it's time for him to send his boys at the Hustle some hip hop dancers during lunch hour), told the Hustle, "Chalie is a gifted artist who has already demonstrated his potential to breakthrough. We are now ready to nurture his talent and capitalize on a promising single that we believe can be a breakout hit."
Chalie was raised in a true BFE environment known as Calvert, Texas. He told the Hustle his early influences were blues musicians Bobby Bland, B.B. King, and Johnny Taylor; and hip hop pioneers Run-DMC, Sugar Hill Gang, Grandmaster Flash and fellow Texas legends UGK.
Chalie's hot single is available on I-Tunes (no kickback for us, by the way … we just think he's worth checking out), and has been picked up by all major digital providers.
You can get more info on Chalie Boy at http://www.myspace.com/chalieboy and follow his daily climb to the top of the charts on http://twitter.com/D3chalieBoy

---
OUR TRAINED MONKEYS WORK 'ROUND THE CLOCK TO FIND
THE 15 VERY BEST STORIES EVERY SINGLE DAY ON THE WEB.
COME ON, SHOW SOME APPRECIATION! PICK A PIC AND CLICK!