Get Ready For "Danny Collins!"
A new movie inspired by a real-life story that involved John Lennon and even features song by the Beatle will open in theatres next month. "Danny Collins" stars Al Pacino, and is based on the life of Steve Tilston, an up-and-coming musician who gave an interview in 1971 in which he worried about the trappings of fame. Lennon read that article and wrote a letter to Tilston offering his encouragement and his home phone number. But the letter got lost, and Tilston only became aware of its existence in 2005, when a collector tracked him down.
In the movie, Danny Collins becomes a major star and turns into exactly what he never wanted to be, a nostalgia act with nothing left to say and somewhat of a joke. The arrival of a man bearing Lennon's letter makes him realize how far he has fallen, so he goes on a quest for redemption. He cancels a tour and moves into a hotel in New Jersey, where he tries to rediscover his muse and connect with the adult son he's never met.
Of course, we're HustleTweeting about Al Pacino (and Danny Collins) and you're more than welcome to join the conversation by following the Hustle on Twitter HERE or write to us directly at hustleoncrave@gmail.com Hey, have you checked out the Hustle's Ultra High Quality You Tube Channel, with exclusive videos featuring OUR WORLD EXCLUSIVE WITH MIKE TYSON … BROCK LESNAR'S "HERE COMES THE PAIN" … ICE-T AND COCO's SEX SECRETS … MMA BAD BOY NICK DIAZ … the list goes on and on, so if you're not subscribing, you're missing something … and by the ways cheapos, it's FREE! Yes, absolutely 100 percent FREE! What are you waiting for? Check it out HERE!
By the way, we're also old school social networkers, so check out our interactive skills on Facebook HERE and even on MySpace HERE. If you're on Friendster, GFY … and have a pleasant tomorrow!
CHECK OUT THE TRAILER FOR "DANNY COLLINS!"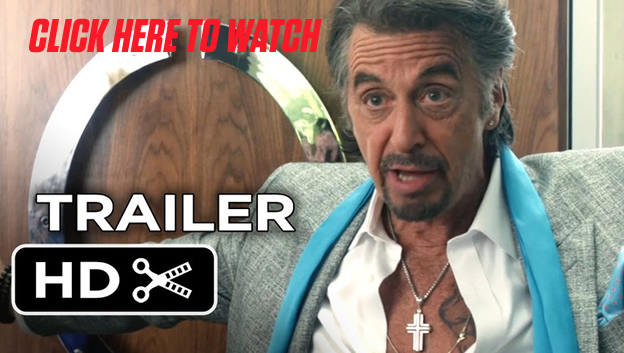 WE HERE AT THE HEYMAN HUSTLE HAVE ENSLAVED HIGHLY TRAINED
MONKEYS TO IGNORE THE FACT THEY ARE OVERWORKED AND UNDERPAID,
ALL IN THE NAME OF SCOURING THE WORLD WIDE WEB TO FIND THE FIFTEEN
MOST PROVOCATIVE STORIES ON THE INTERNET. ALL FOR YOU. NO ONE ELSE
BUT YOU. JUST YOU. AND ALL YOU NEED TO DO IS PICK WHICH PIC TO CLICK!