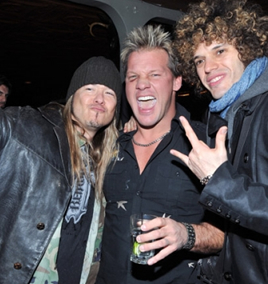 Chris Jericho and Rich Ward's NYC promotional tour of the Fozzy album "Chasing The Grail" saw the two musicians mingle with fans at The Arrow Bar in Manhattan. The CD, which is being universally labeled "Fozzy's best ever," is available now.

CLICK HERE FOR KILLER PHOTOS OF JERICHO AT THE J&R MUSIC WORLD "CHASING THE GRAIL" SIGNING ALONG WITH A COMPLETE TRACK LISTING

CLICK HERE TO SEE JERICHO AND ROCK 'N' ROLL RADIO LEGEND EDDIE TRUNK AT THE ARROW BAR IN NYC

We'll continue our coverage of "Chasing The Grail" as Jericho and his band mates continue promoting the new release.
CLICK ON THE PICS BELOW
TO SEE THE ENTIRE GALLERY
OF FOZZY TAKING MANHATTAN!
---
IT'S THE WEEKEND EDITION OF THE HOLLYWOOD CHARLIE
MEDIA WATCH, WHICH MEANS OUR TRAINED MONKEYS ARE
ALREADY HALF-WAY TO THE BAR. HEY, THAT REMINDS US.
TWO TRAINED MONKEYS AND A HUSTLER WALK INTO A BAR.
THE BARTENDER SAYS, "WHAT IS THIS, A JOKE?" HAH HAH!

OK, SO IT WASN'T FUNNY. HEY, A TRAINED MONKEY WROTE IT.
WHADJA EXPECT? HE GOT PAID IN BANANAS. BUT THAT'S ANOTHER
STORY FOR ANOTHER DAY. IN THE MEANTIME, PICK A PIC, AND CLICK!