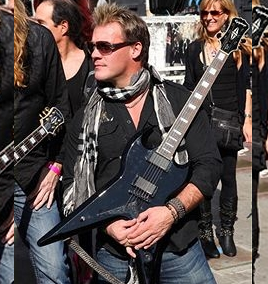 WWE Superstar and Fozzy frontman (or is that Fozzy frontman and WWE Superstar?) Chris Jericho attended the Revolver Golden Gods Awards Press Conference in Los Angeles, and the former Ayatollah of Rock n Rolla doesn't need the tag to be one Rock God that steals the show!
It's hard to be the center of attention when you've got a stage full of legendary attention-grabbers like HHH's hero Lemmy Kilmister of Motorhead, Rob Halford formerly of Judas Priest, Andrew WK (who did his best to steal the show, but he ain't Jer-i-cho!), Dave Mustaine, Vinnie Paul, Zakk Wylde, and Kat Von D. But Jericho was in rare form, and all eyes were on current Smackdown headliner.

We're HustleTweeting about Chris Jericho's appearance. Here's your chance to join the party! Start following the HustleTweets HERE.
CLICK ON THE PICS BELOW TO SEE THE ENTIRE GALLERY
BECAUSE EVERYONE KNOWS ROCK … IS … JERICHO!
---
TIGER WOODS TO HOLD A PRESS CONFERENCE.
PAM ANDERSON IS DAMN NEAR NAKED AGAIN.
SAME STORIES, OVER AND OVER AND OVER AGAIN.
NOT HERE. WE GOT THE 15 BEST STORIES ON THE
NET, SO YOU DON'T HAVE TO SEARCH AND SURF.
ALL YOU NEED TO DO IS PICK A PIC AND CLICK!