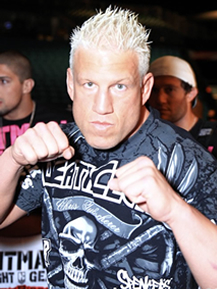 Brock Lesnar's Death Clutch Gym in Alexandria, Minnesota has become a hot bed for Mixed Martial Arts stars. Two time NCAA Champion Cole Konrad, Jon Madsen, and Chris Tuchscherer are all part of the training camp. Lesnar has built, in a short amount of time, a bona fide MMA training center. As Paul Heyman pointed out, "Peter Welch doesn't only, solely, exclusively work with Brock Lesnar. The athletes in this gym get to watch, listen, learn from, and engage with Peter, who is a premier striking strategist. There's Comprido, the 7-time Brazilian Jiu Jitsu World Champion. He's not secluded with Brock. He interacts with everyone. And of course there's Marty Morgan, who has become the single best trainer in the business because he takes his star athlete and he knows how to interact with him as the head coach."
Tonight, Chris "The Crow Bar" Tuchscherer, from the camp of Lesnar, will fight Brendan Schaub, he of the Denver-based High Altitude Martial Arts Gym, where he is the training partner of … wait for it … wait for it …yup, Shane Carwin.

"I don't care how he trained, unless he had someone smack him upside the head with a crowbar, he's not prepared for this fight," joked The Crowbar, who then self-analyzed and declared, "(Brendan is) going to come out, he's going to come out hard," Tuchscherer said, "(Brendan is) going to try and take my head off right away. That's his game plan. I know that's his game plan because that's what he's done in all his fights. He just comes out blazing. My game plan is to stop that and to slow him down real fast and to bring him into my world."

"Plus," Tuchscherer, with a lot of seriousness, "would you want to be the only member of Death Clutch who doesn't win … and have to face Brock Lesnar in the gym next week?"

Tuchscherer and Schaub will collide on the two-hour Spike TV special tonight leading into the biggest pay per view event of the year, UFC 116 from the MGM Grand Garden Arena in Las Vegas, Nevada.

CLICK HERE FOR THE OFFICIAL BROCK LESNAR UFC 116 DEATH CLUTCH WALKOUT T-SHIRT

CLICK HERE FOR PAUL HEYMAN'S BLOG ON UFC 116, BROCK LESNAR, SHANE CARWIN, AND A FIRST HAND COMPARISON BETWEEN DANA WHITE AND WWE CHAIRMAN VINCE McMAHON!


THE HEYMAN HUSTLE'S VERY OWN TRAINED MONKEYS ARE PROUD
TO PRESENT THE TOP 15 STORIES OF THE DAY, ALL CONVENIENTLY
LINKED HERE FOR YOUR REVIEW. NO NEED TO SURF THE WEB, WE
DID ALL THE HARD WORK FOR YOU. JUST PICK A PIC AND CLICK!