The luck of the draw pitted WWE Champion CM Punk against Randy Orton LIVE from the Bell Center in Montreal. The match turned into a wild tag team affair. Paul Heyman came to ringside. The mystery was hot and evening. And then a near-tragedy struck WWE.
It was a night that will forever be remember as the LIVE television show where WWE Hall of Famer Jerry "The King" Lawler had a near-fatal heart attack during Monday Night Raw. Off camera, and during a Daniel Bryan – Kane vs Prime Time Players tag team match, Lawler suffered a massive heart attack while commentating with Michael Cole, and from all accounts is lucky to be alive. The shocking sequence of events obviously overshadowed everything else on the show. So …
When our own Hustler De Tuti Hustlers Paul Heyman came down to ringside during the impromptu tag team contest pitting WWE Champion CM Punk and Dolph Ziggler against Randy Orton and Jerry Lawler, the mystery of "The Paul Heyman Guy" and our boss deepened.
Paul came down to ringside, and engaged in a conversation with Punk that was clearly designed to send a message. But to whom? And what exactly is that message? And why wasn't Vickie Guerrero in on it?
Well, we kinda know that last answer.
Check out the footage and judge for yourself, and then let us know your thoughts. We're HustleTweeting about the strange ringside conversation during WWE Monday Night Raw, and you're more than welcome to follow THE HEYMAN HUSTLE on Twitter HERE or write to us directly at hustleoncrave@gmail.com Hey, have you checked out the Hustle's Ultra High Quality You Tube Channel, with exclusive videos featuring OUR WORLD EXCLUSIVE WITH MIKE TYSON … BROCK LESNAR'S "HERE COMES THE PAIN" … ICE-T AND COCO's SEX SECRETS … TEEN SENSATION TAYLOR MOMSEN … UFC BAD BOY NICK DIAZ … THE WALKING RIOT MISSY HYATT if you're not subscribing, you're missing something … and by the ways cheapos, it's FREE! Yes, absolutely 100 percent FREE! What are you waiting for? Check it out HERE!
By the way, we're also old school social networkers, so check out our interactive skills on Facebook HERE and even on MySpace HERE. If you're on Friendster, GFY … and have a pleasant tomorrow!
EXCUSE ME! CLICK ON THE PICS BELOW TO SEE THE STRANGE RINGSIDE
CONVERSATION BETWEEN WWE CHAMPION CM PUNK AND OUR OWN
HUSTLER DE TUTI HUSTLERS PAUL HEYMAN DURING MONDAY NIGHT RAW!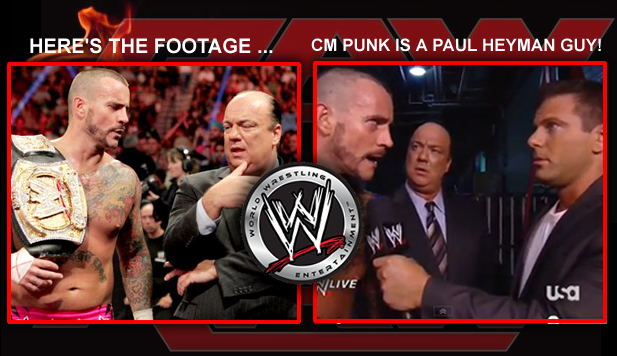 WE HERE AT THE HEYMAN HUSTLE HAVE ENSLAVED HIGHLY TRAINED
MONKEYS TO IGNORE THE FACT THEY ARE OVERWORKED AND UNDERPAID,
ALL IN THE NAME OF SCOURING THE WORLD WIDE WEB TO FIND THE FIFTEEN
MOST PROVOCATIVE STORIES ON THE INTERNET. ALL FOR YOU. NO ONE ELSE
BUT YOU. JUST YOU. AND ALL YOU NEED TO DO IS PICK WHICH PIC TO CLICK!