… and watch Aldo's all time classic reaction, too!
UFC had to be hoping for something like this, and Featherweight challenger Conor McGregor, fighting in Boston for the very first time, put on one helluva show by jumping the Octagon and confronting UFC Featherweight Champion Jose Aldo, whose laughing reaction is equally as big a story as McGregor's leap into the front row.

McGregor stopped the super tough Dennis Siver at UFC Fight Night at 1:54 of the second round. Referee Herb Dean stopped the contest after McGregor dropped Siver with a straight left, mounted and landed a series of unanswered elbows. McGregor (17-2) had predicted a two-minute knockout prior to the fight. He apologized for his prediction not being 100 percent accurate.

"I said two minutes … I meant two rounds," McGregor said. "I felt comfortable throughout. I don't think any of these featherweights pose a threat. Every single one keeps talking but I don't hear them talking about skill or technique, because they know I own that."

The Aldo vs McGregor title match looks like a match made for Sin City.
"It's probably looking like Vegas is the most likely place it's going to happen," UFC CEO Lorenzo Fertitta told the media. "We kind of went back and forth over what makes sense: Ireland, Brazil, Vegas. The reality is the time in Ireland makes it very difficult to draw PPV numbers. We couldn't get the permits that would allow us to do the event early morning, which means we'd have to hold the PPV in the afternoon in the U.S. We didn't feel like that would be feasible. There's nothing wrong with a big fight in Vegas."
Check out the clip and then join the conversation by following the Hustle on Twitter HERE or write to us directly at hustleoncrave@gmail.com Hey, have you checked out the Hustle's Ultra High Quality You Tube Channel, with exclusive videos featuring OUR WORLD EXCLUSIVE WITH MIKE TYSON … BROCK LESNAR'S "HERE COMES THE PAIN" … ICE-T AND COCO's SEX SECRETS … MMA BAD BOY NICK DIAZ … the list goes on and on, so if you're not subscribing, you're missing something … and by the ways cheapos, it's FREE! Yes, absolutely 100 percent FREE! What are you waiting for? Check it out HERE!
By the way, we're also old school social networkers, so check out our interactive skills on Facebook HERE and even on MySpace HERE. If you're on Friendster, GFY … and have a pleasant tomorrow!
THE CONOR McGREGOR – JOSE ALDO CONFRONTATION IN BOSTON!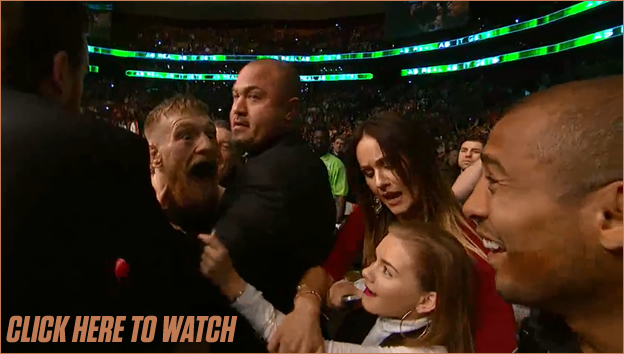 WE HERE AT THE HEYMAN HUSTLE HAVE ENSLAVED HIGHLY TRAINED
MONKEYS TO IGNORE THE FACT THEY ARE OVERWORKED AND UNDERPAID,
ALL IN THE NAME OF SCOURING THE WORLD WIDE WEB TO FIND THE FIFTEEN
MOST PROVOCATIVE STORIES ON THE INTERNET. ALL FOR YOU. NO ONE ELSE
BUT YOU. JUST YOU. AND ALL YOU NEED TO DO IS PICK WHICH PIC TO CLICK!