We're just four hours away from Showtime going live from the HP Pavilion in San Jose, California, and in each fighter's mind, a different drama is beginning to unfold. IS FEDOR EMELIANENKO TRULY UNBEATABLE, or does Fabricio Werdum hold the secret to defeating The Emelianenko Brothers? Is Cyborg the most dominant female in MMA history, or is Jan Finney just hours away from superstardom? Is Josh Thomson headed for his third encounter against Gilbert Melendez, or is Pat Healy going to emerge as the new master of the upset victory? Was Scott Smith's 3rd round come-from-behind knockout against Cung Le on December 19th a fluke? Or is Cung Le back and better than ever at the age of 38?

In an exclusive interview with THE HEYMAN HUSTLE, StrikeForce CEO Scott Coker commented on the Cung Le vs Scott Smith rematch, noting "The rematch between Cung Le and Scott Smith has the makings of an action filled, inspiring battle. Instead of looking for another opponent, Cung demanded to fight the only man who's ever beaten him, in his first fight back since the loss in December."

Coker continued, "Cung is clearly hungry to avenge this defeat and I think he will come out looking for the finish on Saturday. In the first fight, Scott Smith proved once again that he is one of the most determined fighters in the sport and is NEVER out of a fight. He staged one of the greatest comebacks in the history of MMA against Cung after being dominated for the majority of the fight."

Ever the promoter, Coker added, "I'm personally very interested and excited to see Cung Le and Scott Smith battle it out in a few hours!"

There are still limited tickets available for "STRIKEFORCE and M-1 Global: Fedor vs. Werdum" at the HP Pavilion box office and all Ticketmaster outlets and online. The show airs live on Showtime tonight starting at 10pm Eastern/Pacific.
Don't forget, we'll be HustleTweeting about the show tonight, and you're welcome to join the conversation! The topic is StrikeForce, and the forum is your's! CLICK HERE for the Hustle's Twitter page!
WILL CUNG LE AVENGE THE ONLY DEFEAT OF HIS CAREER?
OR WILL HE GET KNOCKED OUT AGAIN BY SCOTT SMITH?
CLICK ON THE VIDEO BELOW TO SEE HIGHLIGHTS FROM
THEIR FIRST FIGHT ON DECEMBER 19, 2009!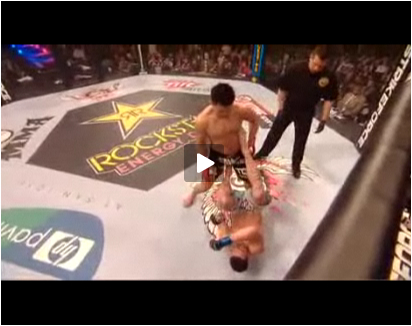 THE HEYMAN HUSTLE'S VERY OWN TRAINED MONKEYS ARE PROUD
TO PRESENT THE TOP 15 STORIES OF THE DAY, ALL CONVENIENTLY
LINKED HERE FOR YOUR REVIEW. NO NEED TO SURF THE WEB, WE
DID ALL THE HARD WORK FOR YOU. JUST PICK A PIC AND CLICK!