BREAKING NEWS!
Boarding the UFC corporate jet to Atlanta, Ultimate Fighting President Dana White shook up the MMA world with a simple tweet announcing Alistair Overeem was out of UFC 146, and Frank Mir would get the title shot against Heavyweight Champion Junior Dos Santos. The fight will take place on Memorial Day Weekend, Saturday May 26th at the MGM Grand Garden Arena in Las Vegas, Nevada.
Mir's original opponent, Cain Velasquez, will reportedly remain on the card, however a new opponent has yet to be decided. Overeem's destruction of Brock Lesnar in December led to the former Strikeforce Heavyweight Champion (he was never defeated for the title) getting the championship opportunity, but a random pre-fight drug screening resulted in Overeem delivering a 14:1 testosterone-to-epitestosterone ratio that was well above Nevada's 6:1 limit.
Overeem is currently scheduled to plead his case in front of the Nevada State Athletic Commission on Tuesday. His manager, Glenn Robinson, recently stated that Overeem had a reasonable explanation for the failed test. Dana White decided not to wait for the NSAC's determination, and pulled the switch to Mir this evening. Mir, who is 16-5, has racked up a three-fight winning streak, with victories of Mirko Cro Cop, Roy Nelson, and Antonio Rodrigo Nogueira.
Of course, we're HustleTweeting about JDS vs Frank Mir, and you're more than welcome to join the conversation by following THE HEYMAN HUSTLE on Twitter HERE or write to us directly at hustleoncrave@gmail.com Hey, have you checked out the Hustle's Ultra High Quality You Tube Channel, with exclusive videos featuring BROCK LESNAR'S "HERE COMES THE PAIN" … ICE-T AND COCO's SEX SECRETS … THE ULTIMATE WELTERWEIGHT BAD ASS NICK DIAZ … CONTROVERSIAL TEEN SENSATION TAYLOR MOMSEN … LEGENDARY MMA PIONEER FRANK SHAMROCK … THE WALKING RIOT MISSY HYATT … if you're not subscribing, you're missing something … and by the ways cheapos, it's FREE! Yes, absolutely 100 percent FREE! What are you waiting for? Check it out HERE!
By the way, we're also old school social networkers, so check out our interactive skills on Facebook HERE and even on MySpace HERE. If you're on Friendster, GFY … and have a pleasant tomorrow!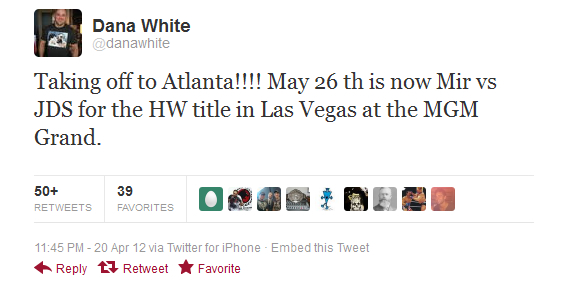 IT'S TIME FOR AN ALL NEW EDITION OF THE HOLLYWOOD CHARLIE
MEDIA WATCH, OUR DAILY TRAVEL ACROSS THE WORLD WIDE WEB.
OUR HIGHLY TRAINED MONKEYS HAVE PICKED OUT THE 15 WILDEST
STORIES FROM THE INTERNET FOR YOUR ASTUTE REVIEW. YOUR PART
IS VERY EASY. ALL YOU NEED TO DO IS PICK A PIC … AND CLICK!