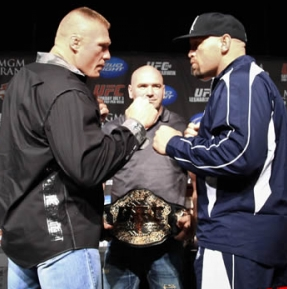 Las Vegas, Nevada — UFC President Dana White could not have said it with any more conviction. At the UFC 116 Press Conference, the Ultimate head honcho was asked about Fedor Emelianenko. White's response? "I'm not interested!"
The lambasting continued. "Listen, how many times have you seen us sign a guy when he just loses in another promotion, you know?" White joked, "Oh, the guy just lost in Strikeforce, let's sign him!"
White thinks Fedor's loss to Werdum was the end of the UFC-Fedor courtship. "If we would've come to a deal with Fedor, yeah, we could've put on a big promotion, and we could've found out (if he was the real deal)," White said. "People are going to say (that) he got caught in a triangle, (and that) anybody can (get caught). Yeah, anybody can, but it would've been a lot better if he came over and lost to Shane Carwin, Brock Lesnar or Cain Velasquez than losing to Werdum."
White moved on to the next subject, but not before one last final thought. "Now that he loses, now they want to say, maybe we'll come over, because he lost? I'm done playing the games."

However, just getting started is the promotional push behind Cain Velasquez.

"Cain fights the winner of this fight, probably as soon as possible," White stated at the press conference, "Cain's been waiting a long time."

Velasquez put himself in prime position with his 1st round knockout of Antonio Rodrigo Nogueira at UFC 110. The victory was Velasquez's 8th straight and added Nogueira to a list of UFC victims that includes Brad Morris, Jake O'Brien, Denis Stojnic, Cheick Kongo and Ben Rothwell.

Now Cain will have the Ultimate reason to watch this Saturday night's main event, when Brock Lesnar and Shane Carwin fight for the Undisputed UFC Heavyweight Championship of the World in the main event of UFC 116, the mega-event at the MGM Grand Garden Arena that promises to be the biggest pay per view of the year.
CLICK ON THE PICS BELOW TO SEE THE HEYMAN HUSTLE'S
ENTIRE GALLERY OF UFC PRESIDENT DANA WHITE AT THE
PRE-FIGHT PRESS CONFERENCE AT THE MGM GRAND IN VEGAS!

THE HEYMAN HUSTLE'S VERY OWN TRAINED MONKEYS ARE PROUD
TO PRESENT THE TOP 15 STORIES OF THE DAY, ALL CONVENIENTLY
LINKED HERE FOR YOUR REVIEW. NO NEED TO SURF THE WEB, WE
DID ALL THE HARD WORK FOR YOU. JUST PICK A PIC AND CLICK!