The Ultimate Fight Boss Speaks Out!
As part of the promotion in Canada for UFC 124, UFC President Dana White was interviewed by George Stroumboulopoulos and was asked about the confrontation between Former Ultimate Fighting Heavyweight Champion Brock Lesnar and WWE's Mark Calaway aka The Undertaker.

White commented on a potential WrestleMania match between Lesnar and Taker, "(Brock) is under contract (to UFC). I don't want to blur those lines. First of all, (Brock) coming over (UFC) … we gave him that shot. It was a big risk on our part. The guy was 1-0 but he's done incredibly well. What (Brock)'s been able to accomplish with no experience in such a short amount of time, I don't want him going to WWE and blurring the lines of what's real and what's not."
We're HustleTweeting about Dana, and you're welcome to join the conversation! Follow THE HEYMAN HUSTLE on Twitter HERE or write to us at hustleoncrave@gmail.com You can also subscribe (for FREE, cheapos, absolutely FREE) to our Ultra High Quality YouTube Channel HERE, and don't forget to check out our old school social networking skills by visiting us on Facebook HERE and even on MySpace HERE
CLICK ON THE VIDEO BELOW TO SEE DANA WHITE
INTERVIEWED BY GEORGE STROUMBOULOPOULOS!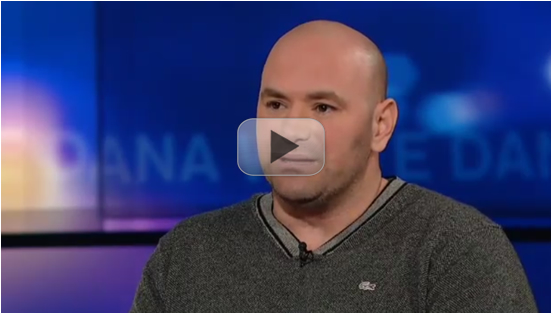 EVERY SINGLE DAY, OUR CRACK STAFF OF OVERWORKED
UNDERPAID BUT HIGHLY TRAINED MONKEYS SCOUR THE
WORLD WIDE WEB IN SEARCH OF THE 15 HOTTEST STORIES
OF THE DAY, JUST TO BRIGHTEN YOUR DAY. COOL, RIGHT?
ALL YOU NEED TO DO IS PICK A PIC … AND CLICK!