The UFC President Kicks off Fight Week with An Entertaining VLog!

Our own Hustler De Tuti Hustlers Paul Heyman once tweeted that when Ultimate Fight Head Honcho Dana White enters a room, it reminds Paul a lot of WWE Chairman Vince McMahon, except "Dana doesn't need to own all the oxygen in the room!"
The controversial and supremely successful UFC Pres hosted the 1st installment of UFC 129 GSP VS JAKE SHIELDS VLog, and as always, Dana was most entertaining. In this Vlog, we get Chuck Liddell's prediction on GSP vs Shields; UFC corporate office hi-jinks; a video of Dana and Lorenzo Fertitta's reaction to Strikeforce Welterweight Champion Nick Diaz's stoppage of Paul Daley; and a proclamation at the end of the VLog that proves, once again, that Hell has indeed frozen over!
CLICK HERE TO SEE NICK DIAZ'S AMAZING MOMENT AS A GUEST ON THE HEYMAN HUSTLE!
CLICK HERE TO SEE WHY GILBERT MELENDEZ IS THE BEST LIGHTWEIGHT IN THE WORLD!
Of course, we're HustleTweeting about Dana White, UFC 129, GSP, Jake Shields, Nick Diaz, Gilbert Melendez, and the list goes on and on. You are cordially invited to join the conversation by following the Hustle on Twitter HERE or write to us directly at hustleoncrave@gmail.com
You can also subscribe (for FREE, cheapos, absolutely FREE) to our Ultra High Quality YouTube Channel HERE, and don't forget to check out our old school social networking skills by visiting us on Facebook HERE and even on MySpace HERE

LADIES AND GENTLEMEN, THE PRESIDENT OF UFC … DANA WHITE!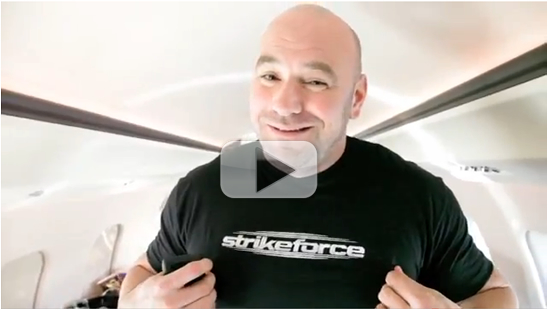 IT'S TIME FOR AN ALL NEW EDITION OF THE HOLLYWOOD CHARLIE
MEDIA WATCH, OUR DAILY TRAVEL ACROSS THE WORLD WIDE WEB.
OUR HIGHLY TRAINED MONKEYS HAVE PICKED OUT THE 15 WILDEST
STORIES FROM THE INTERNET FOR YOUR ASTUTE REVIEW. YOUR PART
IS VERY EASY. ALL YOU NEED TO DO IS PICK A PIC … AND CLICK!