The Olympian Is Looking To Ruin The Light Heavyweight Champion of the World!
Daniel Cormier doesn't just look forward to becoming UFC Light Heavyweight Champion. He can't wait to attain that glory at the expense of Jon Jones. The two will fight on January 3, 2015 at UFC 182, and Cormier is counting down the minutes.
"I think (Jon Jones falls back," Cormier said during his n UFC Tonight interview. "(Jones) kind of falls back into the pack. He'll fight me right back because we'll rematch. That's just right. He's won so many times they're give him a rematch, but I think he'll fall back. What I mean in that sense is, he does believe he's unbeatable. He does believes he's invincible. He doesn't think any of the people in our division can actually compete with him, but once he knows that he can be beat, once he understands that no one is afraid of him, a guy is his equal, Jon will fall back to the rest of the division."
It should be noted that Jones' official record is 20-1, but has never truly lost a sanctioned fight. A 2009 disqualification loss due to illegal downward elbows against Matt Hamill is the only thing that can be pointed to outside of what is a perfect career. Jones would otherwise would be a 15-fight win streak in UFC dating back to 2008.
Anderson "Spider" Silva holds the all-time record for longest win streak in UFC at 16 consecutive victories. Officially, Jones sits at 11 consecutive wins extending from 2010.
"You won't see him winning 10 in a row anymore," said Cormier. "He'll win some, but then he'll lose some, then he'll go searching for answers. He'll go up to heavyweight, he'll come back down. My goal is not only to beat him and take his belt, I'm coming to throw his whole career into a tailspin. Because not only is he going to lose this fight, it's going to put doubt and questions in his head, he'll never be able to answer them. You're going to see a different man whenever he gets out of that cage on January 3rd."
And should Cormier beat Jones, he's sure the same thing will happen again in a rematch. "I'll beat him up again. I'll beat him on January 3rd, he'll come right back, I'll beat him again. When a guy that believes the way that he is, he won't be the same. So not only will he lose to me, but his career is going to go in a tailspin. His head will be spinning. He won't know what's going on. This dude's in for a rude awakening. I'm looking to rid MMA of Jon Jones."
Of course, we're HustleTweeting about Daniel Cormier vs Jon Jones, and you're more than welcome to join the conversation by following the Hustle on Twitter HERE or write to us directly at hustleoncrave@gmail.com Hey, have you checked out the Hustle's Ultra High Quality You Tube Channel, with exclusive videos featuring OUR WORLD EXCLUSIVE WITH MIKE TYSON … BROCK LESNAR'S "HERE COMES THE PAIN" … ICE-T AND COCO's SEX SECRETS … MMA BAD BOY NICK DIAZ … the list goes on and on, so if you're not subscribing, you're missing something … and by the ways cheapos, it's FREE! Yes, absolutely 100 percent FREE! What are you waiting for? Check it out HERE!
By the way, we're also old school social networkers, so check out our interactive skills on Facebook HERE and even on MySpace HERE. If you're on Friendster, GFY … and have a pleasant tomorrow!
DANIEL CORMIER WANTS TO RID MMA OF JON JONES!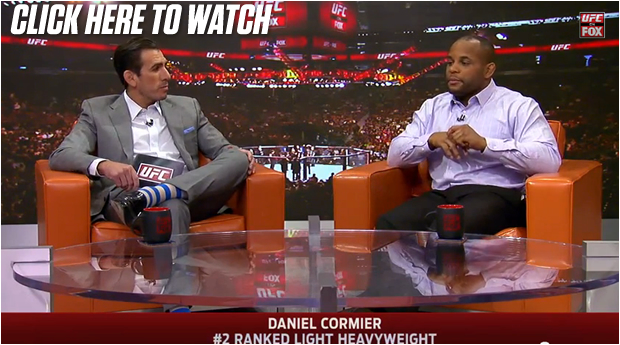 WE HERE AT THE HEYMAN HUSTLE HAVE ENSLAVED HIGHLY TRAINED
MONKEYS TO IGNORE THE FACT THEY ARE OVERWORKED AND UNDERPAID,
ALL IN THE NAME OF SCOURING THE WORLD WIDE WEB TO FIND THE FIFTEEN
MOST PROVOCATIVE STORIES ON THE INTERNET. ALL FOR YOU. NO ONE ELSE
BUT YOU. JUST YOU. AND ALL YOU NEED TO DO IS PICK WHICH PIC TO CLICK!