When Anton Chigurh Didn't Feel Like Being Despicable, Producer Chris Meledandri Said Hello To The Bad Guy!
The minions are back, and they're more despicable than ever, as the first teaser trailer has been released for for "Despicable Me 2."
The big coup this time around? The Bad Guy himself, Al Pacino, in his first animated film. Producer Chris Meledandri noted to the media that having Pacino on board as the villain is, "So exciting! That's a highlight of one's career. That's crazy, wonderful and incredible."
"Despicable Me 2" also features the voices of Kristen Wiig, Miranda Cosgrove, and Russell Brand. "No Country For Old Men" Oscar winner, Javier Bardem was set at one point to voice the new villain, but when he dropped out, Producer Meledandri recovered in a big way by lining up Pacino.
Meledandri says that his team has just started animation and that pressure is high to live up to the first film, which grossed $251.5 million domestically and $543 million globally. "We all, collectively, are united in our hopes (for the film). It's very hard to set your sights on, 'Will we live up to it?,' rather than, 'Will we continually push ourselves to take what audiences loved about the first one and then go beyond it, so that we never feel like we're playing it safe?'"
Of course, we're HustleTweeting about "Despicable Me 2," and you're more than welcome to join the conversation by following THE HEYMAN HUSTLE on Twitter HERE or write to us directly at hustleoncrave@gmail.com
Hey, have you checked out the Hustle's Ultra High Quality You Tube Channel, with exclusive videos featuring BROCK LESNAR'S "HERE COMES THE PAIN" … ICE-T AND COCO's SEX SECRETS … THE ULTIMATE WELTERWEIGHT BAD ASS NICK DIAZ … CONTROVERSIAL TEEN SENSATION TAYLOR MOMSEN … LEGENDARY MMA PIONEER FRANK SHAMROCK … THE WALKING RIOT MISSY HYATT … if you're not subscribing, you're missing something … and by the ways cheapos, it's FREE! Yes, absolutely 100 percent FREE! What are you waiting for? Check it out HERE!
By the way, we're also old school social networkers, so check out our interactive skills on Facebook HERE and even on MySpace HERE. If you're on Friendster, GFY … and have a pleasant tomorrow!

CHECK OUT THE 1st TEASER TRAILER FOR "DESPICABLE ME 2!"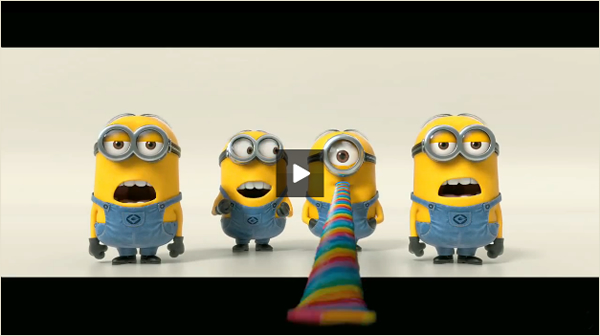 IT'S TIME FOR AN ALL NEW EDITION OF THE HOLLYWOOD CHARLIE
MEDIA WATCH, OUR DAILY TRAVEL ACROSS THE WORLD WIDE WEB.
OUR HIGHLY TRAINED MONKEYS HAVE PICKED OUT THE 15 WILDEST
STORIES FROM THE INTERNET FOR YOUR ASTUTE REVIEW. YOUR PART
IS VERY EASY. ALL YOU NEED TO DO IS PICK A PIC … AND CLICK!