Music's Hottest New Trend Continues!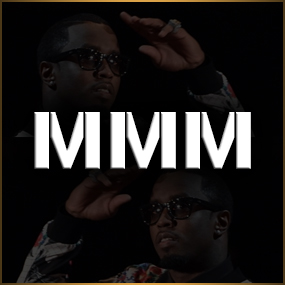 Music's Hottest New Trend Continues!
THE HEYMAN HUSTLE has just confirmed that Sean "Diddy" Combs has announced he's set to release a new FREE mixtape called MMM (which stands for Money Making Mitch, a reference to Mekhi Phifer's character in the movie Paid in Full. The tape is scheduled to premiere at 7 AM Eastern Time and each of the 12 tracks will be matched with all original visuals. Future, French Montana and Jadakiss all appear on the tape, and Pharrell and Mike WiLL Made-It had a hand in its production. The project is apparently the penultimate release before Diddy drops No Way Out 2, which he says will be the last of his storied career.
MMM Tracklist
1. Facts
2. Harlem
3. Help Me
4. Everyday
5. Auction
6. MMM
7. All Or Nothing
8. Workin
9. You Could Be My Lover
10. Uptown
11. Money Ain't A Problem
12. Blow A Check
Diddy also distributed a letter at a party last night, as his birthday was about to strike at Midnight. Here's the letter:
"Money Making Mitch is this fairy tale you know, about this fly nigga from Harlem that came up and he did his thing man he was shining on them, stylin on them.
Showin them how to do it.
Showin them how to get it.
Maybe he was getting in the wrong way, but you know, the fairy tale of it, is most brothers and sisters end up dead or in jail.
But check this out with this fairy tale that I created in my brain imagine if Mitch lived, survived, took those different talents and attributes and business skills and applied it to the world of business. Maned the game.
The legal game.
So this is the fairy tale man and fairy tales do come true.
Cuz we got millions of cats that's comin up with that hustlers spirit and drive they got that Mitch in them and they ain't going to fall to the waste side. They going to take those street smarts and run the world because:
The Black Man is God and NO WAY OUT 2
That's how I'ma leave it on you.
Peace."
Of course, we're HustleTweeting about Diddy's Free Mixtape, and you're more than welcome to join the conversation by following the Hustle on Twitter HERE or write to us directly at hustleoncrave@gmail.com Hey, have you checked out the Hustle's Ultra High Quality You Tube Channel, with exclusive videos featuring the #HUSTLEBOOTYTEMPTATS SUPERMODEL OF THE YEAR … OUR WORLD EXCLUSIVE WITH MIKE TYSON … BROCK LESNAR'S "HERE COMES THE PAIN" … ICE-T AND COCO's SEX SECRETS … MMA BAD BOY NICK DIAZ … the list goes on and on, so if you're not subscribing, you're missing something … and by the ways cheapos, it's FREE! Yes, absolutely 100 percent FREE! What are you waiting for? Check it out HERE
By the way, we're also old school social networkers, so check out our interactive skills on Facebook HERE and even on MySpace HERE. If you're on Friendster, GFY … and have a pleasant tomorrow!

WE HERE AT THE HEYMAN HUSTLE HAVE ENSLAVED HIGHLY TRAINED
MONKEYS TO IGNORE THE FACT THEY ARE OVERWORKED AND UNDERPAID,
ALL IN THE NAME OF SCOURING THE WORLD WIDE WEB TO FIND THE FIFTEEN
MOST PROVOCATIVE STORIES ON THE INTERNET. ALL FOR YOU. NO ONE ELSE
BUT YOU. JUST YOU. AND ALL YOU NEED TO DO IS PICK WHICH PIC TO CLICK!