The Director of The Heyman Hustle Video Series Picks His Favorite Episode From Season Number One, And It Surprised All Of Us Here At The Hustle!
My name is Mitchell K. Stuart, and I am the guy who directed almost all the episodes from season one of THE HEYMAN HUSTLE. The other day, a discussion came up here at the offices of Looking 4 Larry (parent company of the Hustle), as we plot our next uber season, and the question arises yet again. What's your favorite episode? Well, each episode is like your children, you have to love them all equally or you don't release them. But come on, ya gotta have one? The answer IS yes and no. I do love them all equally, but I do LIKE some more then others, but for different reasons. Gavin DeGraw, my all time personal favorite singer-songwriter and pal was cool and generous enough to appear on an early episode and open the door for more musical content (which as you might know is like my other religion). He and Paul rocked it completely and we dined at the legendary Katz's Delicatessen on the Lower East Side after. So, in some ways, the Gavin DeGraw episode is my personal favorite.

That said, I first became interested in working with Paul when I caught him teamed with Missy Hyatt back in the WCW days. Their natural chemistry and comic timing elevated what was goofy riffed wrestling material to the camp cult classics which I fondly remember to this day. So having MISSY HYATT ON THE HEYMAN HUSTLE in a completely over-the-top (naturally) and absolutely HYSTERICAL episode is my favorite for yet other reasons.

But…

When it comes to the episode I am most proud of and love to this day, there can only be one answer, The 3 Foots. You might say "Huh? Paul just tells an old joke. What's so cool about that?"

Well first, in full disclosure, it was my idea. As you may have guessed, Paul is not the kinda guy you just pitch an idea to. Paul's the kinda guy you MUST challenge. Hey Paul. Forget the guests this one time. I just wanna shoot an ep with you. Simple set. Your riff words. I riff cuts. Think of it as a jam with words, cameras and Final Cut.

Then I learned yet another reason why we are partners. He knows HE can't just pitch me. He then presented HIS challenge. Okay, I'll do it. But I'm going to tell a joke.
Huh?

Yup, Mr. Fancy Director. I'm gonna tell a joke in one take and you're gonna turn it into a Hustle Cuz that's MY Hustle.

A quick set up later. I hear myself calling, A-C-T-I-O-N!

So, I am proud to share my favorite (and proudest) episode "The 3 Foots."

I hope you dig it. And that ain't no Hustle.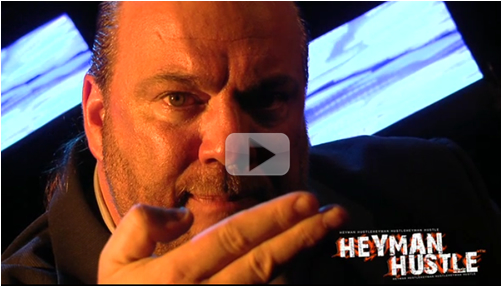 ————————
Mitchell K. Stuart is the Executive Producer and Director of The Heyman Hustle.


IT'S THE HOLLYWOOD CHARLIE MEDIA WATCH, WITH THE
15 BEST STORIES FROM ALL AROUND THE WORLD.
WELL, ALL AROUND THE WORLD WIDE WEB.
BUT YOU ALREADY KNEW THAT, DIDN'T YOU?
PLEASE PICK A PIC AND CLICK!