The Donald Sends A Poison Pen Note to the NBA Hall of Famer!
Republican frontrunner Donald Trump is, apparently, not a fan of NBA Hall of Famer Kareem Abdul-Jabbar. The Presidential Hopeful cut and paste the retired basketball's star column for The Washington Post, in which Abdul-Jabbar discussed the differences between Trump and Democratic underdog Bernie Sanders, and then wrote a note on the editorial in block letters. Abdul-Jabbar, who shared Trump's putdown on Facebook, called the retort "the best, though inelegant, support for my claims."
Abdul-Jabbar, who in 2012 became a U.S. global cultural ambassador thanks to then-Secretary of State and current Democratic presidential hopeful Hillary Clinton, called Trump out for going after Fox debate host Megyn Kelly, saying the GOP candidate committed the "political crime (of) attacking the First Amendment's protection of a free press by menacing journalists."
Trump compounded that unforced error, Abdul-Jabbar wrote, by having Univision's Jorge Ramos booted from a news conference in Iowa and by barring Des Moines Register reporters from his events because the paper's editorial board had called on him to get out of the race. "Attempting to bully the press to silence criticism of him is anti-American," wrote Abdul-Jabbar.
Trump "followed up this salvo on the First Amendment with a strike at the 14th Amendment, asserting that he'd like to deny those born in the country their citizenship," he wrote, adding "The biggest enemy to the principles of the Constitution right now is Trump."
Abdul-Jabbar praised Sanders, the Vermont senator who's been giving Clinton a run for her money in the Democratic contest, as "a mature, thoughtful and intelligent man" who measures up well against Trump, "a last-call candidate who looks good in the boozy dark of political inebriation."
"It's easy to buy into the Trump mirage because his rising poll numbers indicate he's actually doing well," Abdul-Jabbar commented. "But polls are historically misleading, and his supporters will eventually desert him."
Of course, we're HustleTweeting about Donald Trump vs Kareem Abdul-Jabbar, and you're more than welcome to join the conversation by following the Hustle on Twitter HERE or write to us directly at hustleoncrave@gmail.com Hey, have you checked out the Hustle's Ultra High Quality You Tube Channel, with exclusive videos featuring the #HUSTLEBOOTYTEMPTATS SUPERMODEL OF THE YEAR … OUR WORLD EXCLUSIVE WITH MIKE TYSON … BROCK LESNAR'S "HERE COMES THE PAIN" … ICE-T AND COCO's SEX SECRETS … MMA BAD BOY NICK DIAZ … the list goes on and on, so if you're not subscribing, you're missing something … and by the ways cheapos, it's FREE! Yes, absolutely 100 percent FREE! What are you waiting for? Check it out HERE
By the way, we're also old school social networkers, so check out our interactive skills on Facebook HERE and even on MySpace HERE. If you're on Friendster, GFY … and have a pleasant tomorrow!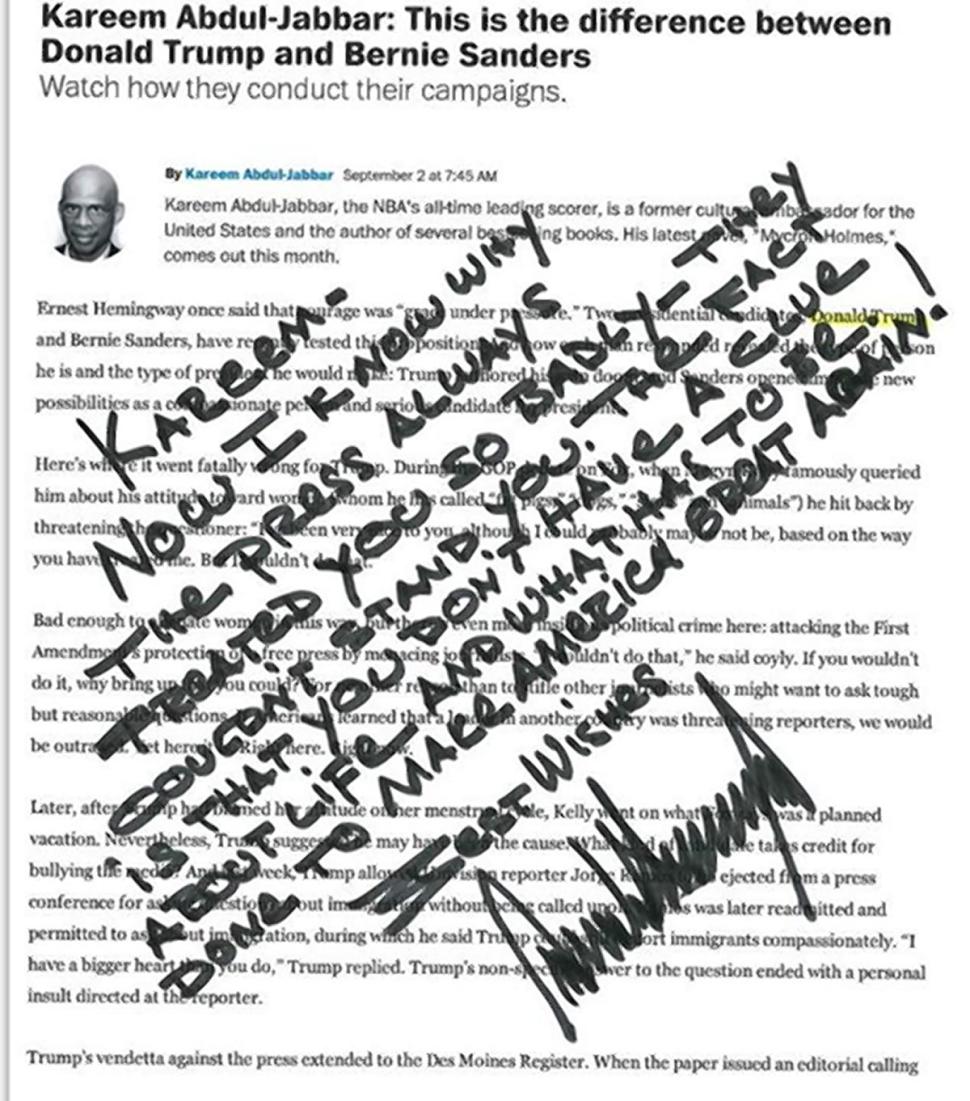 WE HERE AT THE HEYMAN HUSTLE HAVE ENSLAVED HIGHLY TRAINED
MONKEYS TO IGNORE THE FACT THEY ARE OVERWORKED AND UNDERPAID,
ALL IN THE NAME OF SCOURING THE WORLD WIDE WEB TO FIND THE FIFTEEN
MOST PROVOCATIVE STORIES ON THE INTERNET. ALL FOR YOU. NO ONE ELSE
BUT YOU. JUST YOU. AND ALL YOU NEED TO DO IS PICK WHICH PIC TO CLICK!