The Hustler De Tuti Hustlers Paul Heyman interviewed legendary bassist Duff McKagan (Guns n'Roses, Velvet Revolver) and his supermodel wife Susan "The Body" Holmes on THE HEYMAN HUSTLE, and besides talking about a Guns n' Roses reunion, Duff talks about whether he's ever made love to an ugly woman (cuz Susan is a total knockout)!
When The Hustle caught up with Duff in May, 2008 (CLICK HERE FOR ORIGINAL STORY IN THE SUN UK) Velvet Revolver lead singer Scott Weiland had self-destructed again, which seems to happen all the time in Duff's bands (say "hello, Axl Rose!"). Even today, the band, which includes former GNR bandmate Slash, is still looking for a new frontman.
"My VR bandmates and I had a meeting a couple of weeks ago and although the search for a singer will continue, I am going to tour on my solo record most likely through next summer starting in March or April. We will keep the word of mouth system going and listening to submissions from singers and checking out different singers' sites etc," Slash wrote in a recent blog,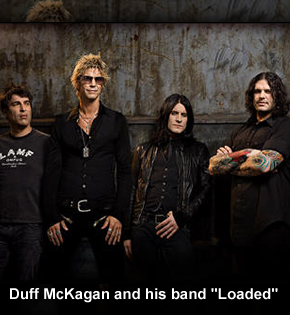 "We know the right guy is out there somewhere. It's possible somebody could turn up before I do my tour and we could start working on new material sooner than later, in a perfect world."
Duff has kept busy with his own band, "Loaded," which includes Geoff Reading on drums and vocals, Jeff Rouse on bass, and Mike Squires on guitar and vocals. He's also kept busy with his wife, supermodel Susan "The Body" Holmes, and never has a nickname been more appropriate.
For a hot photo gallery of Susan modeling her brand new swimwear, CLICK HERE
We also have a great photo gallery of Duff and Susan at various events, which you can check out HERE
DUFF McKAGAN AND SUSAN HOLMES DO THE HEYMAN HUSTLE!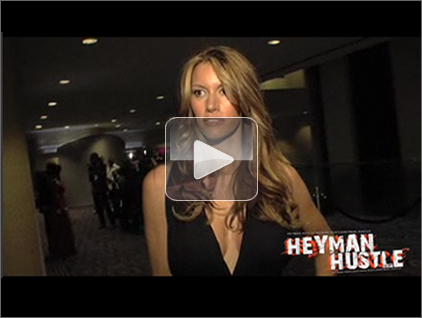 CLICK HERE TO WATCH THE ENTIRE EPISODE!