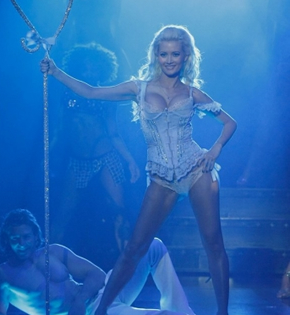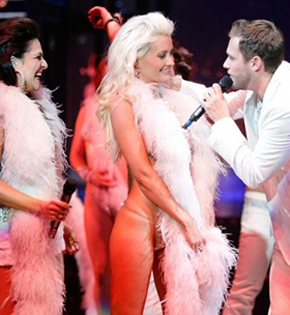 HEYMAN HUSTLE Hottie Holly Madison has signed a contract to extend her run on the Strip in Las Vegas
for another 365 days! The buxom blonde bombshell, who portrays "Bo Peep" in the Planet Hollywood production of Peep Show released a statement saying "I am so excited to be staying with Peep Show. The show is amazing, the cast and crew are like family and of course I love being in Vegas and at Planet Hollywood.
So it appears as though Holly, who you can see here as THE GUEST ON HEYMAN HUSTLE EPISODE 19,
has found herself a new home away from the hustlin' and bustlin' (and more hustlin') of Hugh Hefner's Playboy Mansion in Holmby Hills. The Girl Next Door is working The Las Vegas Strip!
Most "Peepshow" stars complete short guest spots, then move on to other projects. Former Spice Girl Melanie Brown and "General Hospital" starlet Kelly Monaco both enjoyed a few months on the "Peepshow" stage early in the show's run, then handed over the reins to a fresh set of starlets.
While Madison, who took over for Monaco, will remain in the role for at least another year, Brown's replacement is already halfway out the door.
Aubrey O'Day, whose wild antics on THE HEYMAN HUSTLE touched off a firestorm of publicity (CLICK HERE TO SEE THE SHOW) will replace current "Peep Diva" performer Shoshana Bean on Sept. 21.
OK, you've read enough. Time for some enjoyment for the eyes!
Hey You! Stop Staring!
The Entire Gallery Is Just One Click Away!
---
OUR PROFESSIONALLY TRAINED SLAVE LABORERS
WOULD GREATLY APPRECIATE YOUR PARTICIPATION
IN THE HOLLYWOOD CHARLIE MEDIA WATCH. ALL YOU
HAVE TO DO IS PICK AND CLICK A PIC!