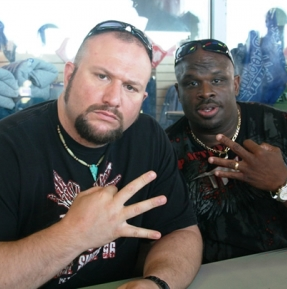 The most decorated tag team in the history of professional wrestling, Team 3-D (Brother Ray and D-Von, known in ECW and WWE as "The Dudley Boys") participated in the 1st Ball Ceremony at MCU Park in Coney Island (Brooklyn, New York) earlier this evening to promote the TNA Wrestling live event at the same minor league baseball park on July 2nd. That's the night before Brock Lesnar and Shane Carwin collide for the UFC Undisputed Heavyweight Championship in Las Vegas.
CLICK HERE FOR AWESOME PHOTOS OF TNA KNOCKOUT VELVET SKY AT MCU PARK!

CLICK HERE FOR PAUL HEYMAN'S BLOG ON BROCK LESNAR'S DRAMATIC CHANGE!

Team 3D are 20+ time World Tag Team Champions, first being put together by our own Hustler De Tuti Hustlers Paul Heyman in 1996, and capturing an unprecedented (and obviously never-to-be-duplicated) eight ECW World's Tag Team Championships. Moving to WWE in September, 1999, the team started
collecting gold in the Land of McMahon, too. The duo will face Ink, Inc (Jesse Neal and Shannon Moore) in a Tag Team Tables Match tomorrow night at the Stadium. Here is the complete lineup for the event:

TNA World Heavyweight Championship Match
Rob Van Dam vs. "The Phenomenal" AJ Styles
"The Charismatic Enigma" Jeff Hardy vs. "The Monster" Abyss
Tag Team Tables Match
Team 3D vs. Ink, Inc. (Jesse Neal and Shannon Moore)
Olympic Gold Medalist Kurt Angle vs. Desmond Wolfe
TNA Knockouts Championship Match
Madison Rayne vs. Angelina Love
Also Appearing: Jay Lethal, Brian Kendrick, Homicide, Amazing Red, and more!

THE HEYMAN HUSTLE's own Bob Mulrenin, who exclusively photographed Team 3-D at the ceremony this afternoon, reported "they were consummate professionals. They know how to make every person getting an autographed signed feel special, and they seemed to really enjoy themselves the entire appearance."
CLICK ON THE PICS BELOW TO SEE THE ENTIRE GALLERY
OF TEAM 3-D AT THE HOME OF THE BROOKLYN CYCLONES!

THE HEYMAN HUSTLE'S VERY OWN TRAINED MONKEYS ARE PROUD
TO PRESENT THE TOP 15 STORIES OF THE DAY, ALL CONVENIENTLY
LINKED HERE FOR YOUR REVIEW. NO NEED TO SURF THE WEB, WE
DID ALL THE HARD WORK FOR YOU. JUST PICK A PIC AND CLICK!