The Heyman Hustle Facebook "Fans" section posted a series of exclusive photos of Holly Madison in the Planet Hollywood Las Vegas performance of "Peep Show."
Holly, who was the featured guest on Episode 19 of The Heyman Hustle, has gotten rave reviews for her performances in the risque show. She was one of our favorites on the Hustle, too.
To check out all the insane Holly Madison hotness from our Fans section, CLICK HERE.
And make sure you don't miss Holly and the always-wild Bridget Marquardt on The Hustle below.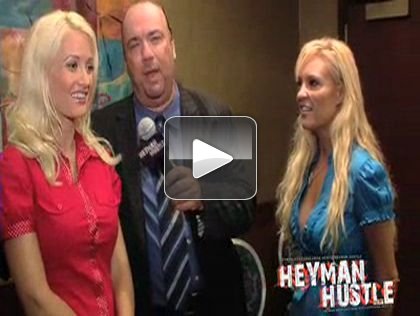 ---
TONIGHT, THE HOLLYWOOD CHARLIE MEDIA WATCH
IS BROUGHT TO YOU BY HOLLY MADISON, PERFORMING
LIVE IN THE LAS VEGAS SENSATION "PEEPSHOW." WE'D
LIKE YOU TO TAKE MORE THAN JUST A PEEP, SO NOW IT'S
YOUR TURN TO TAKE CONTROL! JUST PICK A PIC AND CLICK!