Two Legends Collide as The Zuffa-Owned StrikeForce Promotion Presents A One-Time Only Battle!
When Fedor Emelianenko and Dan Henderson collide on Showtime this weekend for the Zuffa-owned StrikeForce promotion, one person watching the catchweight clash of the legends will be doing so under the impression "The Last Emporer" is in a lose-lose situation.
That person is UFC President Dana White.
In a wide-ranging interview posted on SPORTS ILLUSTRATED'S WEB SITE, White stated "I'm not out to hurt Fedor or hurt any fighter … People ask me my opinion, I give you my opinion on what I think about a fighter. I'm in the fight business and I think that I know a little bit about the fight business. I've been in it since I was 19 … I thought the Fedor hype was ridiculous … If I've got to still give Fedor his digs, my dig would be, 'Dude, you're fighting a 185-pounder.' Henderson's got a great chin, he's durable, he's got good wrestling, he can stay out of submissions, and all the great things I can say about Henderson, but Henderson weighs 185 pounds … So I actually think this fight, as far as Fedor is concerned, it's a lose-lose for him. If he knocks out Dan Henderson, he knocks out a 185-pounder. If he gets knocked out, he just got knocked out by a 185-pounder."
"Strikeforce: Fedor vs. Henderson" takes place this Saturday inside the Sears Centre in Hoffman Estates, Illinois, with the live cablecast on Showtime starting at 10:00 PM Eastern Time / 9:00 PM local in Chicago.
Of course, we're HustleTweeting about Fedor vs Henderson, and you're more than welcome to join the conversation by following the Hustle on Twitter HERE or write to us directly at hustleoncrave@gmail.com
Hey, have you checked out the Hustle's Ultra High Quality You Tube Channel, with videos featuring ICE-T AND COCO's SEX SECRETS … THE ULTIMATE WELTERWEIGHT BAD ASS NICK DIAZ … CONTROVERSIAL TEEN SENSATION TAYLOR MOMSEN … LEGENDARY MMA PIONEER FRANK SHAMROCK … THE WALKING RIOT MISSY HYATT … if you're not subscribing, you're missing something … and by the ways cheapos, it's FREE! Yes, absolutely 100 percent FREE! What are you waiting for? Check it out HERE!
By the way, we're also old school social networkers, so check out our interactive skills on Facebook HERE and even on MySpace HERE. If you're on Friendster, GFY … and have a pleasant tomorrow!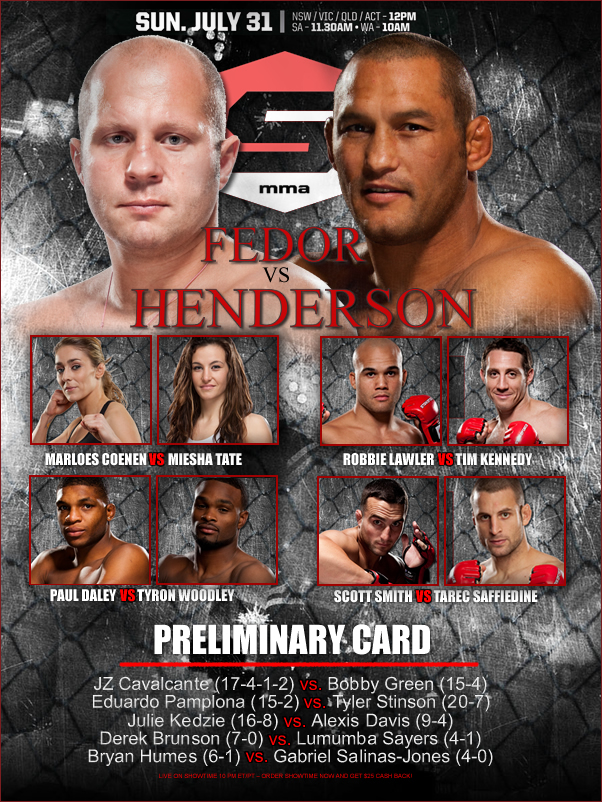 IT'S TIME FOR AN ALL NEW EDITION OF THE HOLLYWOOD CHARLIE
MEDIA WATCH, OUR DAILY TRAVEL ACROSS THE WORLD WIDE WEB.
OUR HIGHLY TRAINED MONKEYS HAVE PICKED OUT THE 15 WILDEST
STORIES FROM THE INTERNET FOR YOUR ASTUTE REVIEW. YOUR PART
IS VERY EASY. ALL YOU NEED TO DO IS PICK A PIC … AND CLICK!