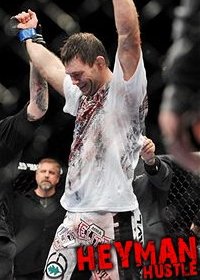 Forrest Griffin Beats Tito Ortiz Via Split Decision at UFC 106 in Las Vegas, Nevada, and THE HEYMAN HUSTLE has an awesome collection of pictures that capture all the drama the 3rd epic had to offer.
CLICK HERE TO SEE THE DRAMATIC FIGHT PICS FROM FORREST VS TITO AT UFC 106
CLICK HERE FOR PAUL HEYMAN AND FORMER WWE SUPERSTAR "MR. KENNEDY…. KENNEDY" (KEN ANDERSON)'S HYSTERICAL PREVIEW OF UFC 106

CLICK HERE FOR PAUL HEYMAN'S BLOG "UFC 106: A LESSON IN BRAND NAME IDENTITY"

CLICK HERE FOR EXCLUSIVE COVERAGE OF THE HOT PRE-FIGHT PARTIES IN SIN CITY, INCLUDING UFC PRESIDENT DANA WHITE AT THE PLAYBOY CLUB

CLICK HERE FOR OUR EXCLUSIVE BACKSTAGE INTERVIEW WITH TITO, WHO DECLARES "I KNOW HOW TO HUSTLE!"

CLICK HERE FOR EXCLUSIVE BACKSTAGE PHOTOS OF TITO ORTIZ PRANKING FORREST GRIFFIN BEFORE THE UFC 106 WEIGH-INS

CLICK HERE FOR AN UPDATE ON BROCK LESNAR'S HEALTH AND FUTURE AS UFC CHAMPION

CLICK HERE FOR NEVER-BEFORE-SEEN PHOTOS OF BROCK LESNAR IN TRAINING

CLICK HERE FOR TITO ORTIZ'S CONTROVERSIAL INTERVIEW ABOUT BOXING JUDGES SCORING UFC FIGHTS … AND HIS COMMENTS ON WOMEN JUDGES AS WELL!

CLICK HERE FOR A SHOCKING CONFESSION FROM FORREST GRIFFIN!
The Heyman Hustle Proudly Presents
A Photographic Retrospective of The Rematch
Between Forrest Griffin and Tito Ortiz from UFC 106.
To View The Entire Gallery, Click on the Pics Below

---
IT'S THE WEEKEND EDITION OF THE HOLLYWOOD CHARLIE
MEDIA WATCH, WHERE OUR AWESOME TEAM OF TRAINED MONKEYS
HAVE CHOSEN THE TOP 15 STORIES OF THE DAY FROM THE WEB.
ALL YOU HAVE TO DO IS PICK A PIC … AND CLICK!