The entire landscape of the boxing industry changed today. And it's all because of Floyd Mayweather Jr!
Floyd Mayweather Jr has turned the boxing world upside by jumping from HBO (owned by Time Warner) and its pay per view properties to Showtime (owned by CBS) and its counterpart-to-HBO pay per view operations. Mayweather, the undisputed Pound-For-Pound king of the world boxing world, actually made two announcements today. The first was that he will return to the ring on May 4th to defend his Welterweight World Championship against interim champ Robert Guerrero at the MGM Grand in Las Vegas, where Mayweather will be fighting for the seventh consecutive time.
Then Mayweather hit the knockout blow with his announcement about the Showtime deal. Money May is not just going to Showtime Pay Per View for one fight, the way Manny Pacquiao did when Top Rank promoter Bob Arum took him from HBO to Showtime to face Shane Mosley two years ago. Arum ultimately brought Pacquiao back after HBO Sports' Ross Greenburg was forced to resign, reportedly in large part for losing Pacquiao to Showtime.
Mayweather, who is 43-0 with 26 KOs, the five-division champion who turns 36 years old on Sunday, signed a six-fight, 30-month deal with Showtime/CBS. He's done at HBO. He is going to become even wealthier at Showtime/CBS.
"This is an enormous deal … I want you to use all of these words … Showtime really, really, really, really, really stepped up in what they offered Floyd," stated an elated Leonard Ellerbe, Mayweather's long time manager. "The actual terms are confidential, but the deal …was substantially better than what we received from HBO. Substantially better. They made it clear, without a doubt, that Floyd Mayweather Jr. is their guy and that they wanted to be in the Floyd Mayweather business."
The deal is a major score for Showtime Sports G.M.Stephen Espinoza and the network, as Mayweather had been with HBO from the beginning of his career after he won a bronze medal at the 1996 Olympics in Atlanta.
"Floyd made a business decision that is best for him and best for his family," Ellerbe said. "Floyd had a tremendous amount of success on HBO and he appreciates everything they've done for him over the last 17 years. But I'll liken this to a guy's relationship with his lady. When you have been in a long term relationship with a young lady, you have to do the same things you did to get her to keep her. You can't take the relationship for granted."
"We made an aggressive and responsible pay-per-view offer," an HBO spokesman said. "Now we move on. We are focused on the best boxing franchise in the television business. We are proud of the roster of superstar fighters and emerging stars who are scheduled to appear on the multiple HBO television platforms this year."
Of course, we're HustleTweeting about Floyd Mayweather's jump from HBO to Showtime, and you're more than welcome to join the conversation by following the Hustle on Twitter HERE … Hey, we're also on Facebook HERE … and since we haven't updated our MySpace page even though Justin Timberlake has invested in your grandpa's social media, you're welcome to check out our much-ignored page HERE.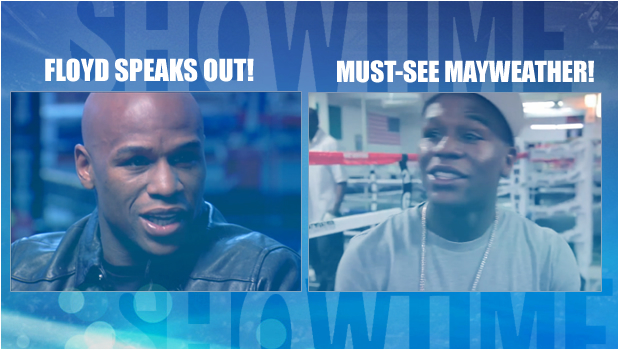 WE HERE AT THE HEYMAN HUSTLE HAVE ENSLAVED HIGHLY TRAINED
MONKEYS TO IGNORE THE FACT THEY ARE OVERWORKED AND UNDERPAID,
ALL IN THE NAME OF SCOURING THE WORLD WIDE WEB TO FIND THE FIFTEEN
MOST PROVOCATIVE STORIES ON THE INTERNET. ALL FOR YOU. NO ONE ELSE
BUT YOU. JUST YOU. AND ALL YOU NEED TO DO IS PICK WHICH PIC TO CLICK!