The Pound-For-Pound King will fight again on May 4th. Opponent? Unknown. New Trainer? Revealed!
Floyd Mayweather Jr's opponent for his May 4th return to the ring has not yet been named, but Boxing's Undisputed Pound-For-Pound King has announced that whomever he fights at the MGM Grand in Las Vegas will be going up against a Floyd Mayweather Sr -trained Money May.
"Me & my trainer [my dad] back working together getting ready for May 4th," Mayweather tweeted this week. The news spread across the world in an instant. Boxing's biggest star and his always-embroiled-in-controversy father have become fixtures on HBO 24/7, and their rocky relationship has been well documented. Floyd Sr. taught his son to box as a child and trained him in the early part of his professional career before going to prison, after which Roger Mayweather, Floyd Sr.'s brother, became Floyd Jr.'s head trainer. That has been the source of a rift in the Mayweather Family that has almost come to blows, even on television, many times, including their infamous confrontation at theMayweather training facility during preparation for the Ortiz fight. The out of control argument saw Jr. have Sr. thrown out of the gym.
According to Jr., his long-time trainer and uncle, Roger Mayweather, has been suffering the effects from diabetes, which is preventing him from continuing his duties as the main man in the corner.
Floyd "Money" Mayweather, who is 43-0, with 26 KO's to his credit, is expected to defend his Welterweight Title at the May 4 pay per view event. While most expect that he will face interim titleholder Robert Guerrero, Mayweather got everyone's attention last week when he said that the front-runner for the fight was fellow Welterweight Champion Devon Alexander. This is surprising because the injured Alexander is under contract to face mandatory challenger Kell Brook in a bout that had been postponed just days earlier because Alexander suffered a biceps injury. Golden Boy Promotions CEO Richard Schaefer, who promotes Guerrero and Alexander and has worked with Mayweather since 2007, has said that Alexander is not a candidate to fight Mayweather. Schaefer said he is working to reschedule the Alexander-Brook fight.
Money May. Always in controversy. Just like dear old dad!
Of course, we're HustleTweeting about Floyd Mayweather Sr and Jr, and you're more than welcome to join the conversation by following the Hustle on Twitter HERE … Hey, we're also on Facebook HERE … and since we haven't updated our MySpace page even though Justin Timberlake has invested in your grandpa's social media, you're welcome to check out our much-ignored page HERE.

CLICK BELOW FOR TO PURCHASE A VERY RARE BOXING GLOVE
PERSONALLY SIGNED BY FLOYD MAYWEATHER JR AND MANNY PACQUIAO!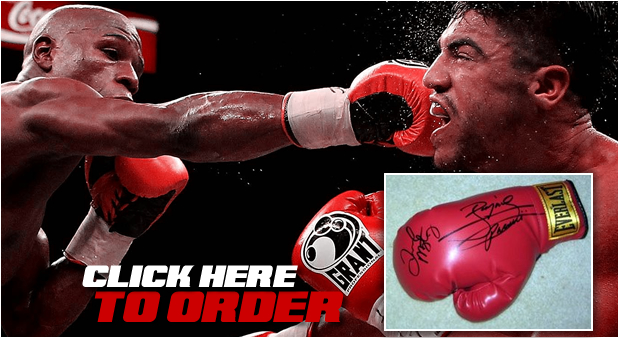 WE HERE AT THE HEYMAN HUSTLE HAVE ENSLAVED HIGHLY TRAINED
MONKEYS TO IGNORE THE FACT THEY ARE OVERWORKED AND UNDERPAID,
ALL IN THE NAME OF SCOURING THE WORLD WIDE WEB TO FIND THE FIFTEEN
MOST PROVOCATIVE STORIES ON THE INTERNET. ALL FOR YOU. NO ONE ELSE
BUT YOU. JUST YOU. AND ALL YOU NEED TO DO IS PICK WHICH PIC TO CLICK!