Everything you could possibly want to know about the hottest song (and dance craze) in the world!
"Gangnam Style" is the lead single of South Korean rapper PSY's six studio album, PSY's Best 6th Part 1. It was released on July 15, 2012, and has exploded into and onto the global pop culture like no other song before. "Gangnam Style" refers to a lifestyle associated with the Gangnam district of Seoul,[where people are thought to be trendy, hip and exude a certain supposed "class". The term was listed in Time Magazine's weekly vocabulary list as "a manner associated with lavish lifestyles in Seoul's Gangnam district." Psy likened the Gangnam District to Beverly Hills, California, and said in an interview that he intended a twisted sense of humor by claiming himself to be "Gangnam Style" when everything about the song, dance, looks, and the music video is far from being such a high class.

PSY commented, "People who are actually from Gangnam never proclaim that they are … it's only the posers and wannabes that put on these airs and say that they are Gangnam Style … so this song is actually poking fun at those kinds of people who are trying so hard to be something that they're not."
The song talks about "the perfect girlfriend who knows when to be refined and when to get wild." The song's refrain ("Oppan Gangnam style") has been translated as "Big brother is Gangnam style", with PSY referring to himself; "Oppa" is a Korean expression used by females to refer to an older male friend or older brother.
The music video shows PSY performing a comical horse-riding dance and appearing in unexpected locations around the Gangnam District, such as an outdoor yoga session and a hot tub. He wears several distinctive suits and black sunglasses with a mind set of "dress classy and dance cheesy!"
Lots of Korean celebrities in the video. 4minute member Hyuna plays PSY's love interest and appears in the two final dance sequence.
Big Bang members Daesung and Seungri appear in the video as two old men playing a board game in the park; they are the two men flying in the background after the explosion. There's Hwang Min-woo, a 5-year-old boy who is seen dancing at the beginning of the video. Wondering who he is? Well, during an interview with CNN, PSY stated that "the night before the music video shoot, I was watching Korea's Got Talent and saw him dance to Michael Jackson. His moves were ridiculous. So we called him up and asked him to be in the music video, which was shooting the very next day, and he came and it all worked out."
Of course, we're HustleTweeting about "Gangnam Style," and you're more than welcome to join the conversation by following THE HEYMAN HUSTLE on Twitter HERE or write to us directly at hustleoncrave@gmail.com Hey, have you checked out the Hustle's Ultra High Quality You Tube Channel, with exclusive videos featuring OUR WORLD EXCLUSIVE WITH MIKE TYSON … BROCK LESNAR'S "HERE COMES THE PAIN" … ICE-T AND COCO's SEX SECRETS … TEEN SENSATION TAYLOR MOMSEN … UFC BAD BOY NICK DIAZ … THE WALKING RIOT MISSY HYATT if you're not subscribing, you're missing something … and by the ways cheapos, it's FREE! Yes, absolutely 100 percent FREE! What are you waiting for? Check it out HERE!
By the way, we're also old school social networkers, so check out our interactive skills on Facebook HERE and even on MySpace HERE. If you're on Friendster, GFY … and have a pleasant tomorrow!
GANGNAM STYLE!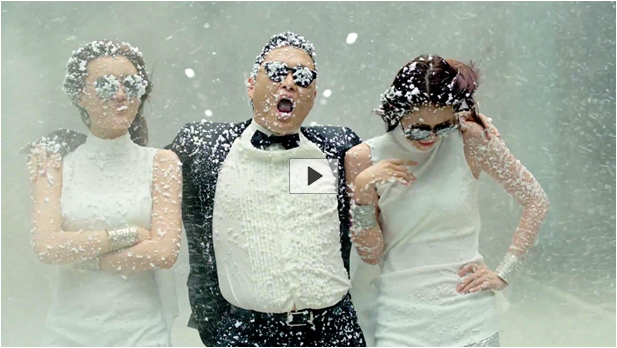 WE HERE AT THE HEYMAN HUSTLE HAVE ENSLAVED HIGHLY TRAINED
MONKEYS TO IGNORE THE FACT THEY ARE OVERWORKED AND UNDERPAID,
ALL IN THE NAME OF SCOURING THE WORLD WIDE WEB TO FIND THE FIFTEEN
MOST PROVOCATIVE STORIES ON THE INTERNET. ALL FOR YOU. NO ONE ELSE
BUT YOU. JUST YOU. AND ALL YOU NEED TO DO IS PICK WHICH PIC TO CLICK!