The Undisputed Welterweight Champion clashes with The Stockton Bad Boy at one of the most volatile pre-fight press conferences in UFC history!
Nick Diaz skipped the UFC 158 public workout yesterday. So when the media converged on the pre-fight press conference earlier today, the stage was set for a no holds barred confrontation with The Stockton Bad Boy and his opponent, the Undisputed Welterweight Champion Georges St-Pierre, and also between Diaz and the media.
"How many times have you had a gun to your head, Georges? How many of your best friends have been shot through the chest with a .45? Or how many of your best friends have been stomped, put to sleep into a coma?" Diaz asked St-Pierre. "We all have to deal with these things in life. How many kids put gum in your hair growing up? Should I go further back? I mean, we have to deal with these things. It's hard times for everybody. And a lot of times, that's what makes us fighters."
"Georges lives here, and he's trying to say it's not fair that he had to (show up at the press conference)? You live here, bro," Diaz said. "You got to do an open workout. I would have liked to do an open workout. I would have liked to do it, so I'm sorry I didn't make it."
UFC president Dana White said that while Diaz's no-show was a headache, there would be no repercussions for his action. So it's onward to Saturday night!
Watch the every end of the video, when GSP takes the title belt off his own shoulders and hands it back to UFC President Dana White. It would appear as though Diaz has really gotten into the head of Georges St-Pierre. Of course, we're HustleTweeting about UFC 158: GSP vs Nick Diaz and you're more than welcome to join the conversation by following us on twitter HERE or write us directly at hustleoncrave@gmail.com Hey, have you checked out the Hustle's Ultra High Quality You Tube Channel, with exclusive videos featuring OUR WORLD EXCLUSIVE WITH MIKE TYSON … BROCK LESNAR'S "HERE COMES THE PAIN" … ICE-T AND COCO's SEX SECRETS … TEEN SENSATION TAYLOR MOMSEN … UFC BAD BOY NICK DIAZ … THE WALKING RIOT MISSY HYATT if you're not subscribing, you're missing something … and by the ways cheapos, it's FREE! Yes, absolutely 100 percent FREE! What are you waiting for? Check it out HERE!
By the way, we're also old school social networkers, so check out our interactive skills on Facebook HERE and even on MySpace HERE. If you're on Friendster, GFY … and have a pleasant tomorrow!
PRE-FIGHT PRESS CONFERENCE FOR UFC 158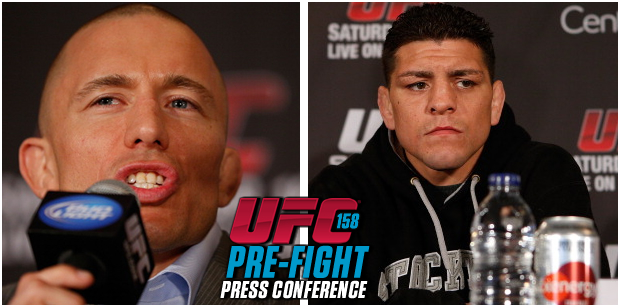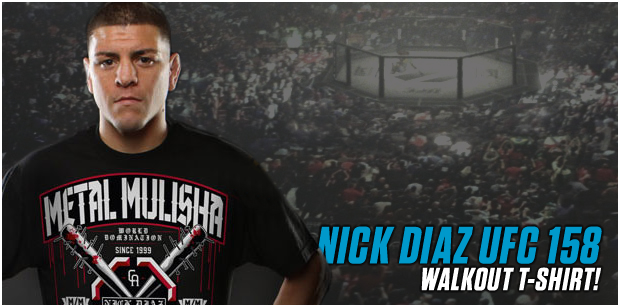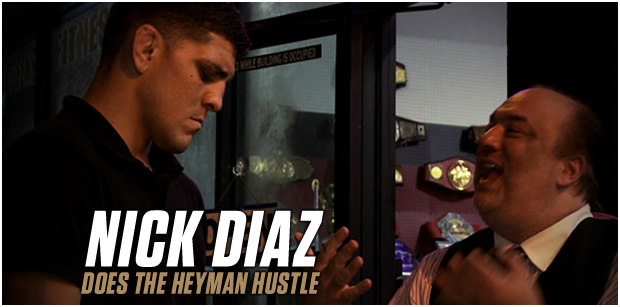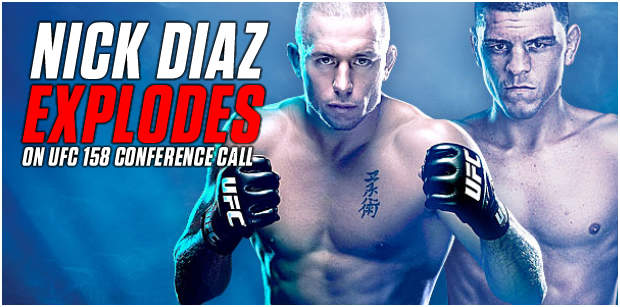 WE HERE AT THE HEYMAN HUSTLE HAVE ENSLAVED HIGHLY TRAINED
MONKEYS TO IGNORE THE FACT THEY ARE OVERWORKED AND UNDERPAID,
ALL IN THE NAME OF SCOURING THE WORLD WIDE WEB TO FIND THE FIFTEEN
MOST PROVOCATIVE STORIES ON THE INTERNET. ALL FOR YOU. NO ONE ELSE
BUT YOU. JUST YOU. AND ALL YOU NEED TO DO IS PICK WHICH PIC TO CLICK!