The Tension is Heavy as Georges St-Pierre Gets Ready To Return Home. To Montreal. And To The Octagon. UFC Cameras Capture The Drama as This Saturday Fast Approaches!
The Tension is Heavy as Georges St-Pierre Gets Ready To Return Home. To Montreal. And To The Octagon. UFC Cameras Capture The Drama as This Saturday Fast Approaches!
It's Fight Week in Montreal.

For the first time in 19 months, Georges St-Pierre is stepping into the Octagon. Mixed Martial Arts' most celebrated Welterweight last fought in the main event of UFC 129, when GSP defended the Undisputed Welterweight Championship against Jake Shields in Toronto.
"My last fight, it was my worst fight," St. Pierre said at the UFC pre-fight press conference yesterday. "I was kind of burned out mentally and physically."
GSP was then granted a hiatus. It's not the way he wanted it delivered, but he had no choice. Georges St-Pierre tore his ACL. Surgery was not elective. It was necessary.
"Now I appreciate every second of every day," St-Pierre told the media yesterday. "I won't be able to do this forever."
"I don't feel the need to get the knockout because when you want the knockout, it doesn't happen," Georges St-Pierre stated. "When the fight is over, no matter the outcome, I want to look him in the eyes, shake his hand and tell him I did my best, that I left everything in there."
Of course, putting Condit away is easier said than done. Though he has suffered three submission losses in his career, the New Mexico bad ass hasn't been stopped in over six years. Since then, he has won 13 of his last 14 fights, including a TKO victory over St. Pierre's training partner, the heavily-hyped Rory MacDonald. Condit has also never been knocked out in 33 professional fights.
Georges St-Pierre said he has the ability to hand Condit his first KO loss. "It's a tough task, but I work hard and there's always a first time for everything," St. Pierre said. "Carlos is a very tough challenge. That's what I train for."
Condit smiled. He heard something he liked. "That's the beauty of the sport, you're really walking on the razor's edge," the Interim Champion said. "You come extremely prepared, having done your homework on your opponent, and then just take a punch. Just like a soldier can train and be the most elite soldier on the battlefield, he can step out and something happens immediately that is out of his control."
At the press conference, he could not contain his respect for St-Pierre. "He's one of the best guys who's ever competed in this sport. He does have this status, but he's a man. He eats, breathes and puts his cup on one leg at a time like everybody else. I have the skills to beat Georges. I just have to go out there, fight smart, fight to the best of my ability and implement my game plan. You never know what's going to happen, but I feel confident."
What's going to happen when Georges St-Pierre steps into the Octagon with Carlos Condit? We're HustleTweeting about UFC 154 right now, and you're more than welcome to join the conversation by following THE HEYMAN HUSTLE on Twitter HERE or write to us directly at hustleoncrave@gmail.com Hey, have you checked out the Hustle's Ultra High Quality You Tube Channel, with exclusive videos featuring OUR WORLD EXCLUSIVE WITH MIKE TYSON … BROCK LESNAR'S "HERE COMES THE PAIN" … ICE-T AND COCO's SEX SECRETS … TEEN SENSATION TAYLOR MOMSEN … UFC BAD BOY NICK DIAZ … THE WALKING RIOT MISSY HYATT if you're not subscribing, you're missing something … and by the ways cheapos, it's FREE! Yes, absolutely 100 percent FREE! What are you waiting for? Check it out HERE!
By the way, we're also old school social networkers, so check out our interactive skills on Facebook HERE and even on MySpace HERE. If you're on Friendster, GFY … and have a pleasant tomorrow!
CHECK OUT UFC 154 PRIMETIME: GSP VS CARLOS CONDIT EPISODE 2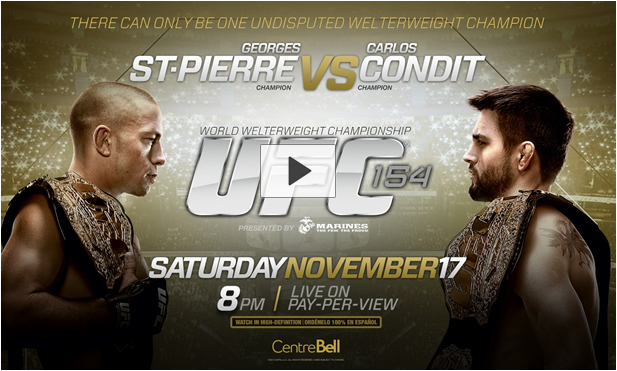 WE HERE AT THE HEYMAN HUSTLE HAVE ENSLAVED HIGHLY TRAINED
MONKEYS TO IGNORE THE FACT THEY ARE OVERWORKED AND UNDERPAID,
ALL IN THE NAME OF SCOURING THE WORLD WIDE WEB TO FIND THE FIFTEEN
MOST PROVOCATIVE STORIES ON THE INTERNET. ALL FOR YOU. NO ONE ELSE
BUT YOU. JUST YOU. AND ALL YOU NEED TO DO IS PICK WHICH PIC TO CLICK!