The Inside Story Behind The Beef That Rocked The MTV Video Music Awards!
"And now, back to this bitch that had a lot of stuff to say about me the other day in the press … Miley what's good?"

And with that, Nicki Minaj put MTV Video Music Awards Host Miley Cyrus on blast, rocking and shocking the VMAs with a moment of tension on stage that had everyone shaking. So what is this beef about? The flare-up stems from AN INTERVIEW THE NEW YORK TIMES CONDUCTED WITH MILEY
in which the reporter was clearly looking for a story, and it would appear Miley was all too willing to oblige.
Here is the transcript of the controversial interview that has touched of music's newest feud:

NYT; What did you make of the Nicki Minaj. controversy around the V.M.A.s — that she was upset "Anaconda" wasn't nominated for Video of the Year?
MILEY: I saw that. I didn't really get into it. I know there was some beef. I don't really know. There's a way to talk to people …
NYT:Do you know what she said?
MILEY: She was saying that everyone was white and blonde that got nominated, I heard? And then Taylor Swift butted in.
NYT: She may have alluded to "Wrecking Ball" also, saying that when a naked white girl breaks a Vevo record she gets nominated.
MILEY: I didn't follow it. You know what I always say? Not that this is jealousy, but jealousy does the opposite of what you want it to — that's a yoga mantra. People forget that the choices that they make and how they treat people in life affect you in a really big way. If you do things with an open heart and you come at things with love, you would be heard and I would respect your statement. But I don't respect your statement because of the anger that came with it.
And it's not anger like, "Guys, I'm frustrated about some things that are a bigger issue."
You made it about you. Not to sound like a bitch, but that's like, "Eh, I didn't get my V.M.A."
NYT:But she was ——
MILEY: If you want to make it about race, there's a way you could do that. But don't make it just about yourself. Say: "This is the reason why I think it's important to be nominated. There's girls everywhere with this body type."
NYT: I think she did say that ——
MILEY: What I read sounded very Nicki Minaj, which, if you know Nicki Minaj is not too kind. It's not very polite. I think there's a way you speak to people with openness and love. You don't have to start this pop star against pop star war. It became Nicki Minaj and Taylor in a fight, so now the story isn't even on what you wanted it to be about. Now you've just given E! News "Catfight! Taylor and Nicki Go at It."
I know you can make it seem like, Oh I just don't understand because I'm a white pop star. I know the statistics. I know what's going on in the world. But to be honest, I don't think MTV did that on purpose.
NYT: Do you have favorite videos from this crop?
MILEY: I don't even really know too much of what's nominated.
NYT: "Anaconda" is nominated for some, "Bad Blood," Kendrick Lamar's "Alright," Ed Sheeran …
MILEY: I like what Kendrick does. I don't really know many of these. I don't really listen to this music. I'm probably the most disconnected host in history. I don't have TV. I have Apple TV. I'm so the 22-year-old that's like, "Who's TV?"
Of course, we're HustleTweeting about Miley Cyrus vs Nicki Minaj, and you're more than welcome to join the conversation by following the Hustle on Twitter HERE or write to us directly at hustleoncrave@gmail.com Hey, have you checked out the Hustle's Ultra High Quality You Tube Channel, with exclusive videos featuring the #HUSTLEBOOTYTEMPTATS SUPERMODEL OF THE YEAR … OUR WORLD EXCLUSIVE WITH MIKE TYSON … BROCK LESNAR'S "HERE COMES THE PAIN" … ICE-T AND COCO's SEX SECRETS … MMA BAD BOY NICK DIAZ … the list goes on and on, so if you're not subscribing, you're missing something … and by the ways cheapos, it's FREE! Yes, absolutely 100 percent FREE! What are you waiting for? Check it out HERE
By the way, we're also old school social networkers, so check out our interactive skills on Facebook HERE and even on MySpace HERE. If you're on Friendster, GFY … and have a pleasant tomorrow!

HERE'S THE NICKI MINAJ – MILEY CYRUS INCIDENT FROM THE 2015 MTV VIDEO MUSIC AWARDS THAT ALMOST BROUGHT THE BROADCAST TO A STANDSTILL!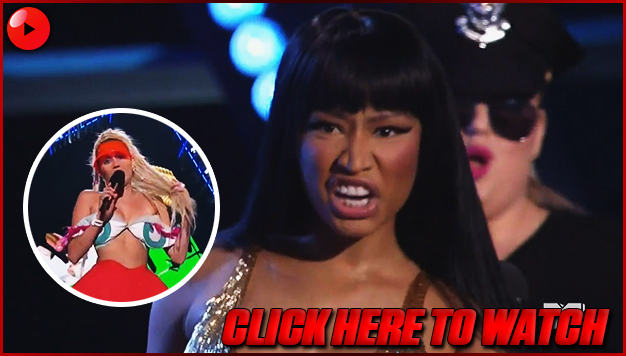 WE HERE AT THE HEYMAN HUSTLE HAVE ENSLAVED HIGHLY TRAINED
MONKEYS TO IGNORE THE FACT THEY ARE OVERWORKED AND UNDERPAID,
ALL IN THE NAME OF SCOURING THE WORLD WIDE WEB TO FIND THE FIFTEEN
MOST PROVOCATIVE STORIES ON THE INTERNET. ALL FOR YOU. NO ONE ELSE
BUT YOU. JUST YOU. AND ALL YOU NEED TO DO IS PICK WHICH PIC TO CLICK!