It's Howard Stern vs Howie Mandel, and The Jabs Are Getting Personal on "America's Got Talent!"
If you're looking for this year's version of Simon Cowell vs Paula Abdul, look no further than "America's Got Talent," as judges Howard Stern and Howie Mandel have sharpened their tongues and engaged in a war of words that will no doubt drive ratings and viewer interest.
The King of All Media didn't agree with the kids' glove approach Howie Mandel took with "Big Barry," and contestant who did a horrendous job of Nina Simone's "Feelin' Good."
Howie tempered his criticism, saying "Barry, I'm going to be totally honest with you. You're not a good singer. But you're an amazing character, and you've got this God-given stature and sound. I think you're an incredible novelty act that people would come and see and pay for."
Stern immediately ripped into Mandel by way of a passive-aggressive comment aimed at Big Barry.
"You know, the Howie filibuster is getting annoying to me actually," Stern said. "I gotta tell you, Big Barry, this isn't about you. This is about Howie and how he treats the show. This is about the apology you owe Flo Jo's daughter (Mary Joyner), Andrew DeLeon … all the people who could have gotten through instead of Big Barry. It's offensive."
It almost seemed like Mandel wanted to push Big Barry through just to irritate the other two judges, who both voted to cast him out. Sharon Osbourne actually reached over and pushed Mandel's buzzer for him before getting in the middle of their bickering to get them to stop.
Of course, we're HustleTweeting on the Battle of the Hows, and you're more than welcome to join the conversation by following the Hustle on Twitter HERE or write to us directly at hustleoncrave@gmail.com Hey, have you checked out the Hustle's Ultra High Quality You Tube Channel, with exclusive videos featuring BROCK LESNAR'S "HERE COMES THE PAIN" … ICE-T AND COCO's SEX SECRETS … THE ULTIMATE WELTERWEIGHT BAD ASS NICK DIAZ … CONTROVERSIAL TEEN SENSATION TAYLOR MOMSEN … LEGENDARY MMA PIONEER FRANK SHAMROCK … THE WALKING RIOT MISSY HYATT … if you're not subscribing, you're missing something … and by the ways cheapos, it's FREE! Yes, absolutely 100 percent FREE! What are you waiting for? Check it out HERE!
By the way, we're also old school social networkers, so check out our interactive skills on Facebook HERE and even on MySpace HERE. If you're on Friendster, GFY … and have a pleasant tomorrow!

DON'T MISS THE ACTION AS HOWARD STERN TANGLES WITH HOWIE MANDEL!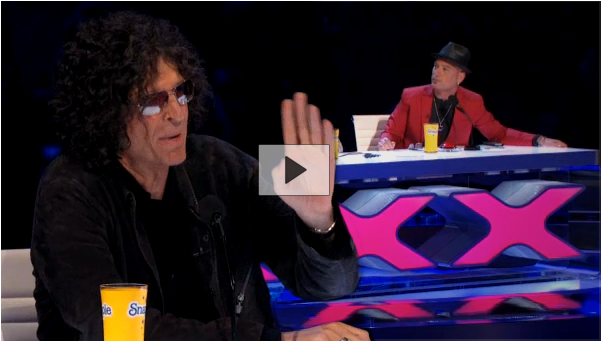 IT'S TIME FOR AN ALL NEW EDITION OF THE HOLLYWOOD CHARLIE
MEDIA WATCH, OUR DAILY TRAVEL ACROSS THE WORLD WIDE WEB.
OUR HIGHLY TRAINED MONKEYS HAVE PICKED OUT THE 15 WILDEST
STORIES FROM THE INTERNET FOR YOUR ASTUTE REVIEW. YOUR PART
IS VERY EASY. ALL YOU NEED TO DO IS PICK A PIC … AND CLICK!