THE HEYMAN HUSTLE catches up with The Immortal Hulk Hogan during WrestleMania week!
THE HEYMAN HUSTLE's very own Digital Charlie was granted EXCLUSIVE access to Hulk Hogan behind the scenes during The Hulkster's media appearance in San Francisco promoting WrestleMania 31. The EXCLUSIVE access brought forth these awesome pictures, which clearly demonstrate Hulk is staying in great shape, obviously looking for "one more match, brother!"

Of course, we're HustleTweeting about Hulk Hogan, and you're more than welcome to join the conversation by following The Heyman Hustle on Twitter HERE! You can also post your thoughts on our Facebook page HERE! If you feel compelled to write us, please do so at HustleOnCrave (at) Gmail.com
BTW, we are kicking ass with our YouTube Channel which features such amazing videos as BRUTAL WWE MOVES: THE REVENGE … #HustleBootyTempTats SUPER MODEL OF THE YEAR ELLIE GONSALVES … BEHIND THE SCENES with BROCK LESNAR … MISSY HYATT's SEX CONFESSIONS … and never to be outdone, COCO DISCUSSES "THE STROKE!"

We are, indeed, on MySpace but we've neglected our account for years … and if you're looking for our Friendster account, GFY!
CLICK ON THE PICS BELOW TO SEE DIGITAL CHARLIE'S ENTIRE HUSTLE EXCLUSIVE PHOTO GALLERY FEATURING HULK HOGAN BEHIND THE SCENES!

CHECK OUT THIS EXCLUSIVE BEHIND THE SCENES VIDEO FEATURING BROCK LESNAR, PAUL HEYMAN AND ROMAN REIGNS DURING WRESTLEMANIA WEEK!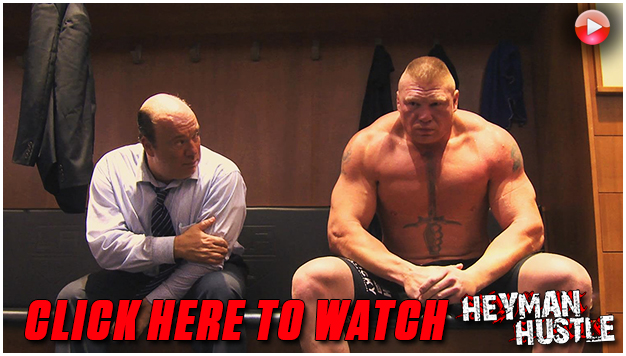 WE HERE AT THE HEYMAN HUSTLE HAVE ENSLAVED HIGHLY TRAINED
MONKEYS TO IGNORE THE FACT THEY ARE OVERWORKED AND UNDERPAID,
ALL IN THE NAME OF SCOURING THE WORLD WIDE WEB TO FIND THE FIFTEEN
MOST PROVOCATIVE STORIES ON THE INTERNET. ALL FOR YOU. NO ONE ELSE
BUT YOU. JUST YOU. AND ALL YOU NEED TO DO IS PICK WHICH PIC TO CLICK!