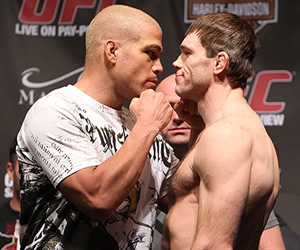 In an interview that is sure to create quite a bit of discussion in the Mixed Martial Arts world, UFC 106 main eventer Tito Ortiz diplomatically stated his case against Boxing Judges participating in MMA events.

"A lot of these boxing judges shouldn't be in there as MMA judges … they're not MMA judges, they're boxing judges. They live by strikes and that's it," Tito stated, saying it's impossible for someone to score an MMA fight when "they've never fought in a cage before."
Tito also touches on women as MMA judges (oh this is really going to make home-life with Jenna Jameson just lovely, trust us!), and the life of an unintentional celebrity, as well as a "thinking-outside-of-the-box" businessman.

Don't miss our EXCLUSIVE GALLERY OF TITO ORTIZ BACKSTAGE AT THE UFC 106 WEIGH-INS, and our continued extensive coverage of the UFC 106 weekend.
THE HEYMAN HUSTLE PRESENTS
TITO ORTIZ'S VIEW ON BOXING JUDGES
SCORING THE FIGHTS AT MMA EVENTS