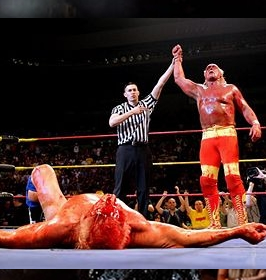 THE HEYMAN HUSTLE has exclusive coverage of The Nature Boy's coming-out-of-retirement match against Hulk Hogan on the 1st night of the Hulkamania! tour in Melbourne, Australia.
A very bloody match saw Hogan defeat Flair in the main event of a card that was reportedly very well received by the Aussie crowd at the Rod Laver Arena.
Hogan, whose multiple hip surgeries prevented him from "dropping the leg, brother," hit Flair with The Nature Boy's own brass knuckles (supplied to him by Kerry Von Erich's daughter Lacey … wow, that's a story and even a book right there, isn't it?) for the pin.
Next stop? Tuesday November 24th at the Burswood Dome in Perth.
THE HEYMAN HUSTLE PRESENTS
EXCLUSIVE COVERAGE OF HULK HOGAN'S
BLOODY BATTLE WITH RIC FLAIR IN MELBOURNE, AUSTRALIA!
TO SEE THE ENTIRE GALLERY, CLICK ON THE PHOTOS BELOW.
---
IT'S THE WEEKEND EDITION OF THE HOLLYWOOD CHARLIE
MEDIA WATCH, WHERE OUR AWESOME TEAM OF TRAINED MONKEYS
HAVE CHOSEN THE TOP 15 STORIES OF THE DAY FROM THE WEB.
ALL YOU HAVE TO DO IS PICK A PIC … AND CLICK!