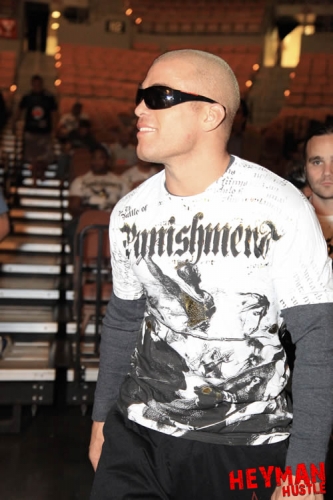 THE HEYMAN HUSTLE's Hollywood Charlie was granted EXCLUSIVE backstage access during the UFC 106 Weigh-Ins last night, and snapped these only-on-the-Hustle photos of Tito Ortiz getting ready for his weigh-in.

"Tito played it really cool," Hollywood Charlie reported, "he was joking about how thirsty he was, since he had to cut 6 pounds since he went to bed the night before the weigh-ins."
AS REPORTED EXCLUSIVELY HERE ON THE HEYMAN HUSTLE, Tito went to bed on Thursday night weighing 211, and had to cut down to 205 for the weigh-ins.

"Tito said when he woke up on Friday, he jumped on the scale and was 210 pounds with just a few hours to go," Hollywood Charlie reported, "this shows he still has the top athlete's mentality and that his body responds to a weight-cutting scenario."

Tito not only made weight, he weighed in at 204 for the weigh-in.

We will have exclusive backstage interviews here on the Hustle in just a few minutes. Check back with us throughout the weekend for our exclusive, extensive coverage of UFC 106.
TO SEE THE ENTIRE EXCLUSIVE GALLERY
OF TITO ORTIZ BACKSTAGE AT THE UFC 106 WEIGH-INS,
CLICK ON THE PHOTOS BELOW