If you think the man who keeps Coco satisfied is impressed with the cinematic version of the best selling novel, you done lost yo mother fu …
The man our very own Hustler De Tuti Hustlers Paul Heyman nicknamed "The OG of Cool" has given his opinion on the "50 Shades of Grey" movie, and as always Ice-T is direct and to the point! The husband of the impossibly-proportioned Coco laid it out for you bitches, so straighten up and pay attention!

"It could've been on Nickelodeon! I went to see it with Coco. Coco read the books, and she said they were boring. She didn't make me go, I wanted to see what all the women were talking about. I wanted to see—maybe I could've learned some moves … It just kept building up. And I'm like, 'What's gonna happen? What's gonna happen?' And she told me that's just how the books are. It's kinda like Lost…where you think something's gonna happen and you keep watching it. Fifty Shades of Grey—that's nothing! One shade of black, that's all you need. It's all you need, baby!"

Of course, we're HustleTweeting about Ice-T's review of "50 Shades of Grey" and you're more than welcome to join the conversation by following the Hustle on Twitter HERE or write to us directly at hustleoncrave@gmail.com Hey, have you checked out the Hustle's Ultra High Quality You Tube Channel, with exclusive videos featuring OUR WORLD EXCLUSIVE WITH MIKE TYSON … BROCK LESNAR'S "HERE COMES THE PAIN" … ICE-T AND COCO's SEX SECRETS … MMA BAD BOY NICK DIAZ … the list goes on and on, so if you're not subscribing, you're missing something … and by the ways cheapos, it's FREE! Yes, absolutely 100 percent FREE! What are you waiting for? Check it out HERE!
By the way, we're also old school social networkers, so check out our interactive skills on Facebook HERE and even on MySpace HERE. If you're on Friendster, GFY … and have a pleasant tomorrow!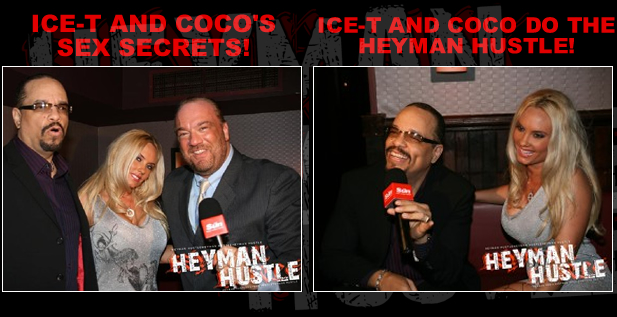 WE HERE AT THE HEYMAN HUSTLE HAVE ENSLAVED HIGHLY TRAINED
MONKEYS TO IGNORE THE FACT THEY ARE OVERWORKED AND UNDERPAID,
ALL IN THE NAME OF SCOURING THE WORLD WIDE WEB TO FIND THE FIFTEEN
MOST PROVOCATIVE STORIES ON THE INTERNET. ALL FOR YOU. NO ONE ELSE
BUT YOU. JUST YOU. AND ALL YOU NEED TO DO IS PICK WHICH PIC TO CLICK!