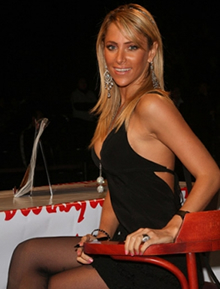 In a world obsessed with the FIFA World Cup 2010, Ines Sainz's popularity is at an all time high. And it's very easy to see why. The gorgeous sidelines reporter is one of Mexico's most celebrated beauties, and keeping in the spirit of presenting THE VERY BEST THE 2010 WORLD CUP has to offer, we'd like to offer you this gallery of photos showing Ines at her very best … just looking gorgeous, with very little effort at all!
CLICK ON THE PICS BELOW TO SEE THE ENTIRE GALLERY OF
TV AZTECA'S MUY CALIENTE SIDELINE REPORTER INES SAINZ!

THE HEYMAN HUSTLE'S VERY OWN TRAINED MONKEYS ARE PROUD
TO PRESENT THE TOP 15 STORIES OF THE DAY, ALL CONVENIENTLY
LINKED HERE FOR YOUR REVIEW. NO NEED TO SURF THE WEB, WE
DID ALL THE HARD WORK FOR YOU. JUST PICK A PIC AND CLICK!