… and Jesse Wellens may never live it down!
YouTube Power Couple Jesse and Jeana are back, and this time it's Jeana who finds herself the victim of a most #EXTREME prank at the hands of her long time boyfriend (and partner in crime) Jesse Wellens.
In the latest edition of the ongoing prank war between the couple, Wellens teams up with fellow viral superstar pranksters Vitaly Zdorovetskiy and Dennis Roady to make Jeana believe Jesse is cheating on her through some smartly woven deception that started the night before.

So, how exactly DO you demonstrate infidelity and paranoia to your partner when she's sitting at home with her cats? Oh wait. Just so you understand how popular this couple is, Jeana's cats have their own YouTube channel. We're not kidding. We're not even pranking. We're leaving the pranking to Jesse and Jeana!

Oh, back to what happened. Well, the first step in setting up an awesome cheating prank is allowing the mind to deceive itself. Jesse does this by going out the night before with Zdorovetskiy and Roady for a night of wild partying in the Hustle's hometown of New York City, all the while documenting their encounters on social media for his girlfriend to watch unfold.
Turning up in NYC with the boys. Drunk Jesse? pic.twitter.com/1EtBiN25I6

— Jesse Wellens (@Jessewelle) May 23, 2015
Turnt. pic.twitter.com/eVA4STAbqI

— Jesse Wellens (@Jessewelle) May 23, 2015
Turn up @Jessewelle pic.twitter.com/IHtgE9yoXS

— Vitaly Zdorovetskiy (@Vitalyzdtv) May 23, 2015
Now, all that's left to do is "accidentally" face time your girlfriend the morning after with another woman in your bed and watch as the magic unfolds. We don't want to give too much away, but suffice to say, Jeana gets PISSED! So maybe, just maybe, you shouldn't watch this video in school,or at work, or in church. And if you're in church, WTF are you doing on THE HEYMAN HUSTLE to begin with?

CLICK HERE TO FOLLOW PRANK VS PRANK ON TWITTER!

CLICK HERE TO CHECK OUT PRANK VS PRANK'S YOUTUBE CHANNEL!

Of course, we're HustleTweeting about Prank vs Prank, and you're more than welcome to join the conversation by following The Heyman Hustle on Twitter HERE! You can also post your thoughts on our Facebook page HERE! If you feel compelled to write us, please do so at HustleOnCrave (at) Gmail.com
BTW, we are kicking ass with our YouTube Channel which features such amazing videos as BRUTAL WWE MOVES: THE REVENGE … #HustleBootyTempTats SUPER MODEL OF THE YEAR ELLIE GONSALVES … BEHIND THE SCENES with BROCK LESNAR … MISSY HYATT's SEX CONFESSIONS … and never to be outdone, COCO DISCUSSES "THE STROKE!"

We are, indeed, on MySpace but we've neglected our account for years … and if you're looking for our Friendster account, GFY!
CLICK BELOW TO WATCH THE PRANK!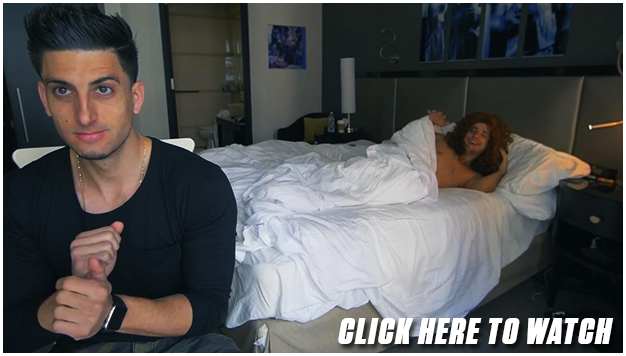 WE HERE AT THE HEYMAN HUSTLE HAVE ENSLAVED HIGHLY TRAINED
MONKEYS TO IGNORE THE FACT THEY ARE OVERWORKED AND UNDERPAID,
ALL IN THE NAME OF SCOURING THE WORLD WIDE WEB TO FIND THE FIFTEEN
MOST PROVOCATIVE STORIES ON THE INTERNET. ALL FOR YOU. NO ONE ELSE
BUT YOU. JUST YOU. AND ALL YOU NEED TO DO IS PICK WHICH PIC TO CLICK!