The American Music Awards mashes up the hottest dance craze in the world with a busted-out old school phenomenon!
This year's AMAs was a special one for those involved, as it was the first one to take place since the passing of originator Dick Clark. "America's Oldest Teenager," who died on April 18th at the age of 82, was remembered in musical tribute performed by Stevie Wonder. "This show, on its 40th anniversary, still reflects Dick's original vision," host Ryan Seacrest, a Clark protégé, told the audience. "Bring the top artists on the planet together on an equal stage and then let the music speak for itself."
That mantra was in full force as the show closed with South Korean rapper PSY's collaboration with MC Hammer in a dance medley to a mash-up of PSY's "Gangnam Style" and Hammer's 1991 sensation "Too Legit to Quit."
"That was so awesome," PSY told CNN backstage after the show. "We experienced miracle tonight."
Hammer, who triggered a dance craze in the early 1990s, said he and Psy are "kindred spirits" and they may work together again. "He's got the whole world dancing," he said, comparing PSY to James Brown, Michael Jackson and himself.
Gotta love these guys! They're so modest!
CLICK HERE FOR THE ORIGINAL VERSION OF "GANGNAM STYLE"
CLICK HERE FOR A VERSION OF "GANGNAM STYLE WE BET YOU NEVER SAW BEFORE!
Of course, we're HustleTweeting about PSY and MC Hammer doing the mash-up at the AMAs, and you're more than welcome to join the conversation by following THE HEYMAN HUSTLE on Twitter HERE or write to us directly at hustleoncrave@gmail.com Hey, have you checked out the Hustle's Ultra High Quality You Tube Channel, with exclusive videos featuring OUR WORLD EXCLUSIVE WITH MIKE TYSON … BROCK LESNAR'S "HERE COMES THE PAIN" … ICE-T AND COCO's SEX SECRETS … TEEN SENSATION TAYLOR MOMSEN … UFC BAD BOY NICK DIAZ … THE WALKING RIOT MISSY HYATT if you're not subscribing, you're missing something … and by the ways cheapos, it's FREE! Yes, absolutely 100 percent FREE! What are you waiting for? Check it out HERE!
By the way, we're also old school social networkers, so check out our interactive skills on Facebook HERE and even on MySpace HERE. If you're on Friendster, GFY … and have a pleasant tomorrow!

CHECK OUT PSY AND MC HAMMER DOING THE "GANGNAM STYLE"
AND "TOO LEGIT TO QUIT" MASH-UP AT THE AMERICAN MUSIC AWARDS 2012!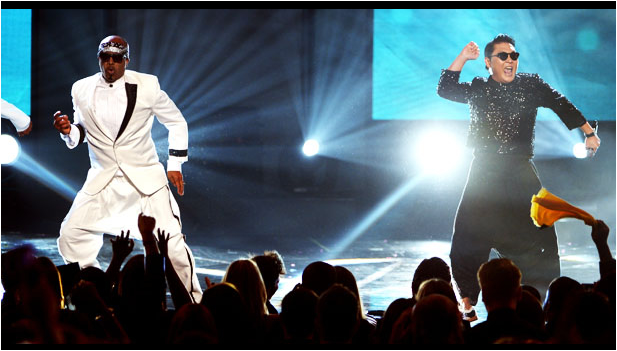 WE HERE AT THE HEYMAN HUSTLE HAVE ENSLAVED HIGHLY TRAINED
MONKEYS TO IGNORE THE FACT THEY ARE OVERWORKED AND UNDERPAID,
ALL IN THE NAME OF SCOURING THE WORLD WIDE WEB TO FIND THE FIFTEEN
MOST PROVOCATIVE STORIES ON THE INTERNET. ALL FOR YOU. NO ONE ELSE
BUT YOU. JUST YOU. AND ALL YOU NEED TO DO IS PICK WHICH PIC TO CLICK!
\