F The SI Jinx! The NY Knicks' Overnight Sensation is The Hottest Thing in Sports!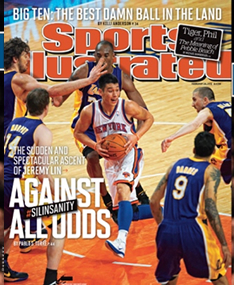 F The SI Jinx! The NY Knicks' Overnight Sensation is The Hottest Thing in Sports!
For the second week in a row, The New York Knicks' undrafted point guard Jeremy Lin is the cover story on Sports Illustrated. The LINsanity continues as Jeremy Lin is now the first New York sports team athlete to hold the honor of back-to-back covers.

Lin was featured on the February 20, 2012 cover driving to the hoop against The LA Lakers. This time, The Knicks' no. 17 pumps his fist on the front page of the February 27, 2012 issue, which promises to tell the unlikely story of how the sudden ascent of the Harvard grad has reached a LINsane global scale.
Knicks Head Coach Mike D'Antoni was asked if all the attention on Lin could become a negative. "It might, who knows. You never know, but we're not afraid of it. He's a great kid and he deserves it," D'Antoni said. "It's an unbelievable story, it's fun, people are excited and we'll see where it goes. Will it be a storybook ending? Everybody hopes so and that's what we're going to work for. But I do know he's a heck of a basketball player, so we'll just ride it and see where it goes."
Lin is the 12th athlete to appear on the SI cover at least two weeks in a row since 1990. Dirk Nowitzki did it during last season's NBA finals. Michael Jordan holds the SI cover record with three in row.
Of course, we're HustleTweeting about Jeremy Lin's rise to prominence, and you're more than welcome to join the conversation by following THE HEYMAN HUSTLE on Twitter HERE or write to us directly at hustleoncrave@gmail.com Hey, have you checked out the Hustle's Ultra High Quality You Tube Channel, with exclusive videos featuring BROCK LESNAR'S "HERE COMES THE PAIN" … ICE-T AND COCO's SEX SECRETS … THE ULTIMATE WELTERWEIGHT BAD ASS NICK DIAZ … CONTROVERSIAL TEEN SENSATION TAYLOR MOMSEN … LEGENDARY MMA PIONEER FRANK SHAMROCK … THE WALKING RIOT MISSY HYATT … if you're not subscribing, you're missing something … and by the ways cheapos, it's FREE! Yes, absolutely 100 percent FREE! What are you waiting for? Check it out HERE!
By the way, we're also old school social networkers, so check out our interactive skills on Facebook HERE and even on MySpace HERE. If you're on Friendster, GFY … and have a pleasant tomorrow!

IT'S TIME FOR AN ALL NEW EDITION OF THE HOLLYWOOD CHARLIE
MEDIA WATCH, OUR DAILY TRAVEL ACROSS THE WORLD WIDE WEB.
OUR HIGHLY TRAINED MONKEYS HAVE PICKED OUT THE 15 WILDEST
STORIES FROM THE INTERNET FOR YOUR ASTUTE REVIEW. YOUR PART
IS VERY EASY. ALL YOU NEED TO DO IS PICK A PIC … AND CLICK!