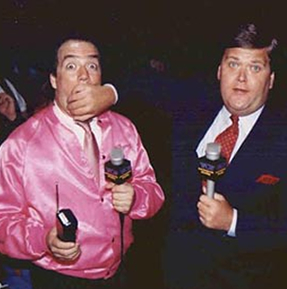 World Wrestling Entertainment Hall of Famer Jim Ross, known all over the world as "Good Ol' JR" was one of the key people involved in recruiting Brock Lesnar to WWE (then WWF) after Lesnar captured the NCAA Division I Heavyweight Championship ten years ago. Ross was the head of Talent Relations under WWE Chairman Vince McMahon, and was in charge of the recruitment program to bring serious college athletes into the fold. Fellow Oklahoman Gerry Brisco, an old friend of Lesnar's University of Minnesota coach Jay Robinson made the contact, and before long Brock Lesnar signed his first deal with WWE.
Ross was interviewed by our good friend Percy Crawford, and offered his prediction for this Saturday night's main event for UFC 116 in THE FIRST PART OF A THREE PART INTERVIEW conducted by Crawford.
 
"I have never met Shane Carwin, but I certainly have respect for him after watching him fight," the long-time Voice of WWE stated, "The thing that strikes me is that Carwin has never gotten out of the 1st round. He's beaten everybody, to my knowledge, in the first round and he's 12-0. It's a dangerous fight for Brock, no doubt about it. I mean, you have a guy that can wrestle and has great striking power…So could Lesnar get knocked out by Carwin? Of course it's possible. It's also possible that Brock could knock out Carwin. It isn't a fight that would seem to me…when you have two guys that are such heavy hitters and so big, so strong and so athletically gifted, it isn't a fight that would go 5 rounds. I have a hard time believing that one. But I'm a Lesnar guy and I think it's going to be his toughest fight."
 
CLICK HERE TO READ PART TWO OF JIM ROSS' IN-DEPTH INTERVIEW WITH PERCY CRAWFORD!
 
CLICK HERE TO READ PAUL HEYMAN'S EXCLUSIVE BLOG CALLING BROCK LESNAR A "CARWIN-EATING CARNIVORE!"
 
THE HEYMAN HUSTLE can exclusively report that Jim Ross and his wife Jan are planning on being in Las Vegas this weekend, and will be attending UFC 116 to see the Lesnar vs Carwin fight to crown an Undisputed Heavyweight Champion of the World in UFC. More exclusive coverage all week long as the Hustle is live in Las Vegas for the biggest pay per view event of the year!

CLICK ON THE VIDEO BELOW TO SEE
THE SPECIAL PREVIEW FOR UFC 116!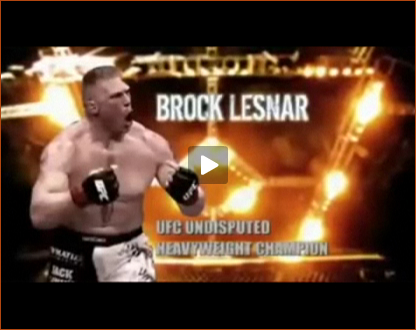 THE HEYMAN HUSTLE'S VERY OWN TRAINED MONKEYS ARE PROUD
TO PRESENT THE TOP 15 STORIES OF THE DAY, ALL CONVENIENTLY
LINKED HERE FOR YOUR REVIEW. NO NEED TO SURF THE WEB, WE
DID ALL THE HARD WORK FOR YOU. JUST PICK A PIC AND CLICK!