The Music Mogul Expands His Reach … AGAIN!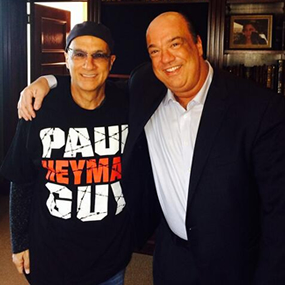 The Music Mogul Expands His Reach … AGAIN!
Jimmy Iovine has once again defied convention and has joined the world's leading concert promoter's board of directors. Live Nation Entertainment has added Iovine as an independent director of the board, and has confirmed Iovine will help the company as it seeks new ways to attract and engage live music fans.
The timing of the appointment is crucial, as it follows up on Live Nation recently pairing up with Vice Media to launch a new entertainment destination for music programming that's set to debut in early 2015.
Live Nation also owns TicketMaster.
Iovine, who now has an undisclosed senior role at Apple (some say his job title is "Jimmy") is the legendary figure in the music industry who founded Interscope Records in 1990, a company that eventually became Interscope Geffen A&M after a series of moves and mergers in 1999.
"Jimmy is an extraordinarily gifted arbiter of culture who understands brands and creating compelling new products and services. He will add an important voice to our board of directors as we look to continue to accelerate Live Nation's growth plans," said Greg Maffei, chairman of the Live Nation board of directors.
Michael Rapino, president and CEO of Live Nation, said Iovine "has been at the forefront of innovation in the entertainment industry for decades, and as an entrepreneur, he has combined business inventiveness and marketing prowess with a deep understanding of the music fan to develop and deliver some of the most sought after artist-oriented consumer products and experiences."
We'll give Jimmy the last word. When discussing Live Nation, the most powerful decision maker in music stated the company "has put together the right management team and incredible assets to really be effective in the new music economy."
By the way, we're also old school social networkers, so check out our interactive skills on Facebook HERE and even on MySpace HERE. If you're on Friendster, GFY … and have a pleasant tomorrow!

WE HERE AT THE HEYMAN HUSTLE HAVE ENSLAVED HIGHLY TRAINED
MONKEYS TO IGNORE THE FACT THEY ARE OVERWORKED AND UNDERPAID,
ALL IN THE NAME OF SCOURING THE WORLD WIDE WEB TO FIND THE FIFTEEN
MOST PROVOCATIVE STORIES ON THE INTERNET. ALL FOR YOU. NO ONE ELSE
BUT YOU. JUST YOU. AND ALL YOU NEED TO DO IS PICK WHICH PIC TO CLICK!