John Cena got a smooth shave today in New York City as ESPN's Erin Andrews and Tony Parker of the NBA San Antonio Spurs joined the WWE Champion for The Gillette Fusion ProGlide "Ultimate Summer Job" contest. Cena, Andrews, and Parker (who is best known for being married to "Desperate Housewives" star Eva Longoria) will serve as judges on the panel which will decide who wins $50,000 and a trip across the United States this summer to promote Gillette's new razor. We have a ton of PHOTOS OF CENA AND TONY PARKER'S SHAVE, as well as the viral video of John Cena asking "Are You Ready For The ProGlide Challenge?"
Hey, if you're using a Gillette ProGlide razor, you're old enough to take THE ASKMEN.com MALE SURVEY 2010. The insane dudes over at AskMen specifically want input from our Hustlers, so here's your chance to be heard!
CLICK ON THE VIDEO BELOW TO SEE JOHN CENA'S
VIRAL VIDEO FOR THE GILLETTE ProGLIDE CHALLENGE!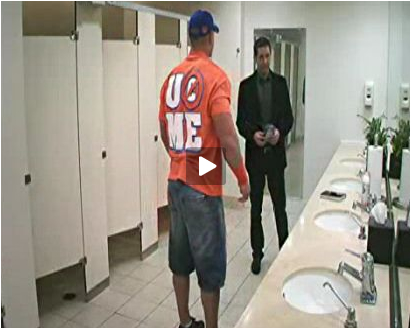 THE HEYMAN HUSTLE'S VERY OWN TRAINED MONKEYS ARE PROUD
TO PRESENT THE TOP 15 STORIES OF THE DAY, ALL CONVENIENTLY
LINKED HERE FOR YOUR REVIEW. NO NEED TO SURF THE WEB, WE
DID ALL THE HARD WORK FOR YOU. JUST PICK A PIC AND CLICK!