The Undisputed Light Heavyweight Champion of the World Wins a Controversial Unanimous Decision, and Alexander Gustafsson Emerges as a Star!
The Ultimate Fighting Championship Undisputed Light Heavyweight Champion Jon Jones (19-1 MMA, 13-1 UFC) is human,m after all. Last night in Toronto, the first fighter in UFC history to actually be sponsored by the promotion itself was almost dethroned by Alexander Gustafsson (15-2 MMA, 7-2 UFC) in a vicious and bloody war, eventually won by Jones via unanimous decision.
Gustafssion emerges from their contest at the Air Canada Center a bon a fide star, with people clamoring for a rematch. The Swede was known as a 6'5" giant in the 205 pound division, but is now recognized as one of the best fighters in the world. He took the fight to Jones like no one we've ever seen capable of doing before.
"I've been asking for a dog fight for a long time, and I finally got that dog fight I've been asking for," Jones said after the five-round fight.
"He was just a tough fighter," Jones said. "I spent a lot of time on my boxing in this camp. Maybe that wasn't the best idea. I should have been like water and used more versatility. But hat's off to Alexander. That was by far my toughest fight, and I really got to exercise my warrior spirit tonight. That makes me happier than getting the win."
The 26 year old Gustafsson, humble in a defeat many thought might end up in his favor or even a draw, stated "I will learn from this, and I'll come back much stronger from this. I'm just starting my career, and I have lots of fights to do."
What's YOUR opinion on the fight? We're HustleTweeting about Jones vs Gustafsson right now, and you're more than welcome to join our HustleTweeters on Twitter. All you have to do is follow THE HEYMAN HUSTLE on the soon-to-be-publicly-traded Twitter HERE or write us directly at hustleoncrave@gmail.com Hey, have you checked out the Hustle's Ultra High Quality You Tube Channel, with exclusive videos featuring OUR WORLD EXCLUSIVE WITH MIKE TYSON … BROCK LESNAR'S "HERE COMES THE PAIN" … ICE-T AND COCO's SEX SECRETS … TEEN SENSATION TAYLOR MOMSEN … UFC BAD BOY NICK DIAZ … THE WALKING RIOT MISSY HYATT if you're not subscribing, you're missing something … and by the ways cheapos, it's FREE! Yes, absolutely 100 percent FREE! What are you waiting for? Check it out HERE!
HUSTLE EXCLUSIVE! MIKE TYSON TALKS ABOUT JON "BONES" JONES!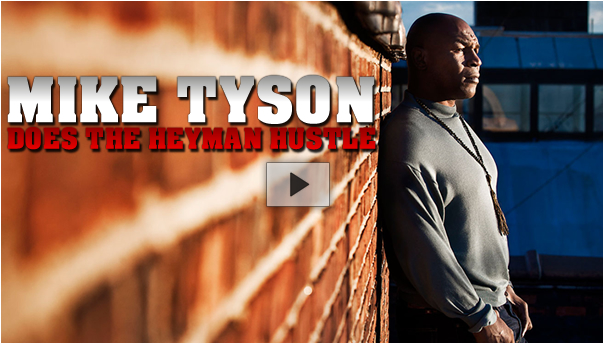 WE HERE AT THE HEYMAN HUSTLE HAVE ENSLAVED HIGHLY TRAINED
MONKEYS TO IGNORE THE FACT THEY ARE OVERWORKED AND UNDERPAID,
ALL IN THE NAME OF SCOURING THE WORLD WIDE WEB TO FIND THE FIFTEEN
MOST PROVOCATIVE STORIES ON THE INTERNET. ALL FOR YOU. NO ONE ELSE
BUT YOU. JUST YOU. AND ALL YOU NEED TO DO IS PICK WHICH PIC TO CLICK!