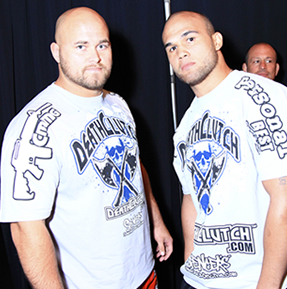 It Would Have Been An Interesting Brawl.
Dolan High School Freshman Jon Madsen had just lost a tough wrestling match to a big farm boy from a town less than hour away. The big farm boy's name? Brock Lesnar. After the match, a little incident took place. "I look over and see my brother and Brock exchanging words, and then I see Brock push off my brother," Madsen recalls with a mischievous grin, "so I grabbed my headgear and whipped it at Brock's head, but the coaches grabbed and got in between us before anything else happened."

It's at this point of the story where Madsen tries to hide his enthusiasm for the ruckus. "The whole crowd went nuts."

Madsen originally broke into MMA by training at Matt Hughes' H.I.T. Squad Gym in Granite City, Illinois. He was so impressive, he earned a spot on Season 10 of "The Ultimate Fighter."

Although he lost to Brendan Schaub in the quarter-finals of the show, he came back on the live Season Finale and won a decision over Justin Wren. That lead to a spot on the UFC 112 card in Abu Dhabi, which saw the rapidly-improving Madsen defeat Mostapha Al Turk of the UK by unanimous decision.

Then Madsen switched camps, joining the Death Clutch Gym in Alexandria, Minnesota. Yup, the Death Clutch Gym built by and for UFC Heavyweight Champion Brock Lesnar.

"Everyone remembers the incident where we were going to fight," Madsen laughs, "but we actually had four matches in high school, and split them. In college, he beat me. He was just moving so fast."

"We pushed each other, had a mutual respect," Madsen theorizes, "that's why it's so great to train with him now."

"Plus," Madsen adds, "(The Death Clutch Gym is) the best training facility for MMA you can imagine. Your only choice in that gym is to improve your game in every way!"

Madsen, who lives on a family farm in Carpenter, South Dakota that has been in his family since 1883, will fight Karlos Vernola in a 3 round heavyweight contest tonight in the opening preliminary fight for UFC 116, which is headlined by Brock Lesnar vs Shane Carwin for the Undisputed UFC Heavyweight Championship of the World.

Madsen's game plan? "I plan on winning," the 5-0 Madsen says confidently, "I know that any loss can cost me my job with UFC. I've just begun. Karlos Vernola has to go down."

Vernola is a tough obstacle for Madsen. He's a six-time Czech Republic national wrestling champion.

"That's great, I guess," Madsen says, "I don't concentrate on that. I concentrate on what I need to do to keep improving my position in UFC."

Madsen and Vernola will open up the UFC 116 live event tonight at the MGM Grand Garden Arena. Both men are undefeated. The hype for this fight is easy. Two men enter the Octagon undefeated. Only one leaves that way. Jon Madsen is sure it's going to be him. "Nothing against Vernola," Madsen says, "but I know I'm ready, and I know I'm going to earn that victory tonight!"

CLICK HERE FOR THE OFFICIAL BROCK LESNAR UFC 116 WALKOUT T-SHIRT!

CLICK HERE FOR PAUL HEYMAN'S BLOG ON BROCK LESNAR, SHANE CARWIN, CHRIS LEBEN, UFC 116, AND ULTIMATE HEAD HONCHO DANA WHITE VS WWE CHAIRMAN VINCE McMAHON!


THE HEYMAN HUSTLE'S VERY OWN TRAINED MONKEYS ARE PROUD
TO PRESENT THE TOP 15 STORIES OF THE DAY, ALL CONVENIENTLY
LINKED HERE FOR YOUR REVIEW. NO NEED TO SURF THE WEB, WE
DID ALL THE HARD WORK FOR YOU. JUST PICK A PIC AND CLICK!