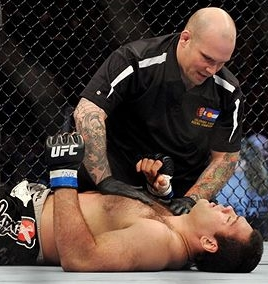 Junior Dos Santos' crushing defeat of Gabriel Gonzaga has added another name to the top of the heavyweight challengers' list that await UFC Undisputed Heavyweight Champion Brock Lesnar, and potentially either Frank Mir or Shane Carwin should either one defeat the other, and then Lesnar this year. The long-maligned heavyweight division of Ultimate Fighting Championships is now packed with new top contenders, from Cain Valesquez to Mir – Carwin to Dos Santos.
CLICK HERE TO READ PAUL HEYMAN'S BLOG ON WHY BROCK LESNAR IS THE ULTIMATE HEEL FOR UFC!

CLICK HERE TO READ FORMER PRESIDENTIAL CANDIDATE AND CURRENT FOX NEWS ANALYST MIKE HUCKABEE'S BLOG ON BROCK LESNAR AND PAUL HEYMAN'S HEALTH CARE DISCUSSION!

This Saturday night, Zuffa will present UFC 111, in which Frank Mir will fight the undefeated Shane Carwin. The winner of that fight will become the UFC Interim Champion, and will unify the titles this summer against Brock Lesnar. Whether Lesnar, Mir, or Carwin emerge as the Undisputed Champion this summer, both Gonzaga and Dos Santos will be waiting for their title fights. Dos Santos' 1st round knockout victory over Gonzaga was nothing short of impressive, as UFC will reap the benefit of a star studded heavyweight division.
CLICK ON THE PICS BELOW TO SEE THE ENTIRE
GALLERY FROM DOS SANTOS VS GABRIEL GONZAGA!
---
THE HEYMAN HUSTLE IS PROUD TO HELP YOU SPEND MORE QUALITY TIME
DOING THE THINGS YOU LOVE, AND LESS TIME HAVING TO SURF THE NET.
PRESENTING THE 15 WILDEST STORIES OF THE DAY FROM ACROSS THE
WEB, ALL HERE AT YOUR FINGERTIPS. JUST PICK A PIC … AND CLICK!