Brad Pitt Has Ice Running Through His Veins as Jackie Cogan … and If You Like Tony Soprano, You're Gonna Love This Movie!
The Weinstein Co. has released the 1st trailer for Andrew Dominik's "Killing Them Softly," formerly known as "Cogan's Trade," a totally bad ass crime flick starring Brad Pitt as "professional enforcer" Jackie Cogan.
The film also stars Ray Liotta from "Goodfellas" and James Gandolfini … yes, Tony Soprano himself … as New York Mickey, a cold blooded hitman. Richard Jenkins, who is always excellent, is in it, too, and so are Scott McNairy from Monsters and Ben Mendelsohn from The Dark Knight Rises. !
"Killing Them Softly" is based on George V. Higgins' crime novel "Cogan's Trade" and follows Brad Pitt's character Jackie Cogan, who is an enforcer investigating a heist that takes place during a high stakes poker game perpetrated by two junkies played by McNairy and Mendelsohn. Andrew Dominik (you may know some of his other work like Chopper or Assassination of Jesse James) both writes & directs the film which also features Casey Affleck and Sam Rockwell. The film first premiered at the Cannes Film Festival and it hits theatres on October 19th.
Of course, we're HustleTweeting about Brad Pitt, James Gandolfini, "Killing Them Softly" and anything else you can think of, so please feel free to join the conversation by following THE HEYMAN HUSTLE on Twitter HERE or write to us directly at hustleoncrave@gmail.com Hey, have you checked out the Hustle's Ultra High Quality You Tube Channel, with exclusive videos featuring OUR WORLD EXCLUSIVE WITH MIKE TYSON … BROCK LESNAR'S "HERE COMES THE PAIN" … ICE-T AND COCO's SEX SECRETS … TEEN SENSATION TAYLOR MOMSEN … UFC BAD BOY NICK DIAZ … THE WALKING RIOT MISSY HYATT if you're not subscribing, you're missing something … and by the ways cheapos, it's FREE! Yes, absolutely 100 percent FREE! What are you waiting for? Check it out HERE!
By the way, we're also old school social networkers, so check out our interactive skills on Facebook HERE and even on MySpace HERE. If you're on Friendster, GFY … and have a pleasant tomorrow!
CHECK OUT THE OFFICIAL TRAILER FOR "KILLING THEM SOFTLY"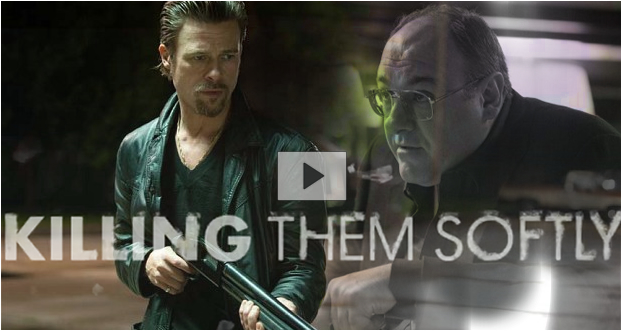 IT'S TIME FOR AN ALL NEW EDITION OF THE HOLLYWOOD CHARLIE
MEDIA WATCH, OUR DAILY TRAVEL ACROSS THE WORLD WIDE WEB.
OUR HIGHLY TRAINED MONKEYS HAVE PICKED OUT THE 15 WILDEST
STORIES FROM THE INTERNET FOR YOUR ASTUTE REVIEW. YOUR PART
IS VERY EASY. ALL YOU NEED TO DO IS PICK A PIC … AND CLICK!