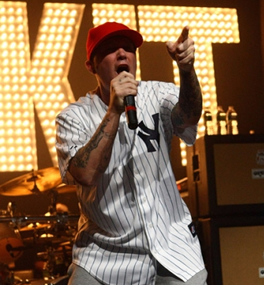 Fred Durst and Wes Borland appeared to put the past behind them as Limp Bizkit rocked out a heavy concert at The Gramercy Theatre (aka The Blender Theatre) on East 23rd Street in New York City, and THE HEYMAN HUSTLE was on hand to witness the history-making kickoff for the band's summer tour with Snoop Dogg.
"This is definitely more of a comeback than a reunion for us," Durst said backstage before the event, "a reunion is more like when a band gets together one more time and cashes in. We're calling this a comeback. We're going to evolve."
The band's new release, "Gold Cobra" has been described by those who have heard it as being inspired by daft-punk, and Fred couldn't agree more, and told us he feels "Daft Punk always seem to have their finger on the pulse."
THEY'RE DOING IT ALL FOR THE NOOKIE, SO KEEP ROLLIN'
ROLLIN' ROLLIN' ROLLIN' AND CLICK ON THE PICS BELOW TO
SEE THE ENTIRE GALLERY OF LIMP BIZKIT'S COMEBACK IN NEW
YORK CITY. HEY, NO MATTER WHAT, YA GOTTA HAVE FAITH!
---
IT'S THE MOTHER'S DAY WEEKEND EDITION OF THE HOLLYWOOD
CHARLIE MEDIA WATCH! SO BUY MOM SOME FLOWERS, AND BY
ALL MEANS DON'T FORGET A CARD. THEN SNEAK OFF INTO
ANOTHER ROOM, AND CHECK OUT THESE STORIES, THE
15 HOTTEST ON THE WEB THIS WEEKEND! HEY, THERE
IS NO NEED TO THANK US, IT'S JUST OUR JOB. ALL
YOU NEED TO DO IS PICK A PIC … AND CLICK!